SHIP REPAIR BUSINESS TO SERVICE USS ESSEX; AMOUNT OF AWARD MAY GROW
BAE Deal Worth a Minimum of $125.5M
Tuesday, March 15, 2022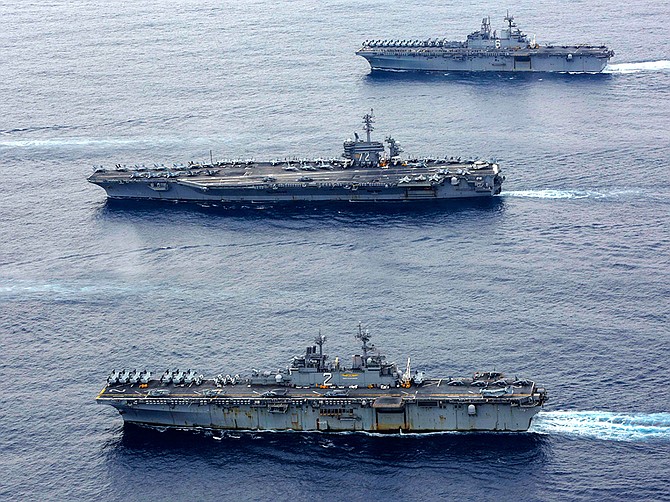 The U.S. Navy awarded BAE Systems San Diego Ship Repair a $125.5 million contract to maintain, modernize and repair the amphibious ship USS Essex during an operation that is expected to take more than a year.

The Essex is a Wasp-class LHD — known informally as a "big deck amphib" — measuring 844 feet long and displacing approximately 42,000 tons. It can carry 1,687 Marines in addition to the ship's crew, as well as the Marines' landing craft. The ship's distinctive flat deck can accommodate helicopters as well as certain jet aircraft with short takeoff, vertical landing capability.
 
The contract includes options which, if exercised, would bring the cumulative value of the deal to $148.2 million. Work will be performed in San Diego and is expected to run between June 2022 and October 2023.

The Navy describes the work as a docking selected restricted availability. The work plan includes repairs and overhauls of major systems. A comprehensive list mentions aircraft elevator repairs; tank repair and preservation; and boiler inspections. The schedule of improvements includes upgrades to communications gear and information technology.

The government, in its solicitation, said it will require "a highly capable contractor with substantial facilities, to include capable pier … as well as human resources capable of completing, coordinating and integrating multiple areas of ship maintenance, repair and modernization." The pier must be in approximately 35 feet of water to accommodate the ship, which has a draft of 28 feet.
 
This contract was open to shipyards on the West Coast and awarded using full and open competition via the federal government's System for Award Management website (sam.gov). Competitive proposals were received in response to the solicitation. The Naval Sea Systems Command at the Washington Navy Yard in Washington, D.C. awarded the contract, announced on March 4.
R&D Funds for F-35 Spent Locally

The U.S. Navy awarded Lockheed Martin Corp. a contract worth up to $869.9 million related to the F-35 Lightning II fighter jet program. The Pentagon describes the deal as a contract modification that will add scope for integrating mission and weapon systems capability development. Pentagon R&D funds will pay for the work. The deal includes unspecified flight-test hardware. Work is expected to conclude in 2026.

The deal will steer 5% of work, or a maximum $43.5 million, to San Diego, though specific contractors were not named in the announcement. Cubic Corp. and Northrop Grumman Corp. (NYSE: NOC) are two important San Diego subcontractors for the F-35.
 
The Naval Air Systems Command in Patuxent River, Maryland awarded the contract, announced on March 4.

Separately, Finland has taken another step toward upgrading its fleet with F-35 aircraft. Air Force Magazine reported on Feb. 11 that Finland finalized a $9.4 billion purchase of aircraft and support services. The Finnish air force will receive 64 aircraft, with the first arriving as early as 2025.
Raytheon to Study Missile Defense

The U.S. Navy awarded Raytheon Technologies Corp. (NYSE: RTX) an indefinite-delivery/indefinite-quantity contract that could be worth as much as $13.6 million. Some 80% of the work will be performed in San Diego. This contract provides test, evaluation and systems engineering support, to include mission planning, test plans and procedures, mission conduct and data collection, real-time range safety mission support, mission data analyses and reporting, operations research support, and technical management support for the Missile Defense Agency/AEGIS Ballistic Missile Defense Program.
The balance of the work will be performed at Point Mugu; Barking Sands, Kauai, Hawaii; White Sands Missile Range, New Mexico; and various locations within the continental United States. Work is expected to be completed by March 2026. The contract was not competitively procured, as the government determined there was only one responsible source for the work. The Naval Air Warfare Center Weapons Division in China Lake awarded the contract, announced on March 7.
Vendors Support Naval Air Warfare Center

AEVEX Aerospace of Solana Beach, CaVu Consulting Inc. of San Diego, La Jolla Logic Inc. of San Diego, and Sentek Global of San Diego (now part of Deloitte) are among approximately 60 companies awarded indefinite delivery/indefinite quantity contracts to support new and emerging requirements of Naval Air Warfare Center Aircraft Division Webster Outlying Field. Companies will have the opportunity to compete for up to $249.7 million worth of work through March 2027. The Naval Air Warfare Center Aircraft Division at Patuxent River, Maryland awarded the contracts, announced on March 4.
Marines Building Energy Resilience

The Department of the Navy awarded Concurrent Technologies Corp. of Johnstown, Pennsylvania a contract modification worth $8.1 million. Some 11% of the work, or approximately $890,000 worth, will be performed in San Diego. This modification provides for support services in efforts to meet the U.S. Marine Corps' energy reliability and resilience requirements for utility distribution systems and various energy security positions supporting headquarters, regions and installations. Work under this option period is expected to be completed in March 2023. The Marine Corps Installations Command, Headquarters Contracting Office of Arlington, Virginia, awarded the contract, announced on March 8.