H.G. Fenton Residential Communities Lauded
Friday, March 11, 2022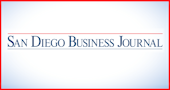 Mission Valley-based
H.G. Fenton Company
, which oversees more than 3,500 apartments in the San Diego region, recently took several honors related to that business.
Nine of its rental communities received
2021 Top Rated Community Awards
from ApartmentRatings, a business in El Segundo. The communities that were honored include
Bella Del Mar Apartments
,
BLVD North Park
,
Club River Run Apartments
,
Creek View Condominium Rentals
,
El Dorado Hills Apartments
,
Evening Creek Condominium Rentals
,
Portofino Apartment Homes
,
Seagate Condominium Rentals
and
Urbana East Village Rental Flats
.
Alex Winborn, vice president of residential asset management at H.G. Fenton Company, said the firm was "honored to celebrate the positive resident experience" recognized by ApartmentRatings. He went on to acknowledge the work of company employees, which makes it all possible.
Separately, on the strength of positive responses in resident surveys, the company received the
National Resident Satisfaction Award
for a 20
th
year. SatisFacts runs the awards program, which recognizes multifamily management companies and communities across the United States and Canada.
Award winners maintained a SatisFacts portfolio score of 4.0 or above. A perfect score is 5. The surveys evaluate residents' collective experience throughout the year including move-in, maintenance and overall experience.
H.G. Fenton Company is family run and was founded in 1906.
The company owns and manages 18 residential communities. Recent projects include the award-winning Vici and Amo communities in Little Italy; H.G. Fenton Company also developed the adjacent Piazza della Famiglia, a 10,000 square foot plaza inspired by the cities of Europe that became the new heart of Little Italy when it opened in 2018.
In 2021, the company opened its newest development, TRU Bankers Hill, redeveloping a building that previously served as a medical clinic. In its new form, the building provides housing and retail in an urban setting near Balboa Park.
The business also leases commercial properties.