CEO Awards Arrive in June; Nominate Now
Originally published March 4, 2022 at 12:10 a.m., updated June 23, 2022 at 10:11 a.m.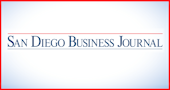 San Diego has its share of iconic CEOs. It is time to honor them.
As a first step, the San Diego Business Journal is taking nominations for the region's premier event saluting outstanding company leaders.
The 2022 CEO of the Year Awards ceremony is set for Thursday, June 23.
[Editor's note: Since this story was published, the date of the event had been changed to Thursday, June 30.]
Companies and individuals may nominate candidates by clicking this link.
Nominations will be accepted through May 17.
The event will recognize local industry leaders' great achievements within their companies as well as in the community.
CEOs will also share best practices during a panel discussion.
Sponsors for the 2022 event are PNC Bank and Umpqua Bank. The charity event sponsor is the Jacobs & Cushman San Diego Food Bank.