WHERE 'WELCOME HOME BEAUTIFUL' IS MORE THAN A MOTTO
Gossip Grill: The Go-To Place for LGBTQ+ Community
Monday, June 20, 2022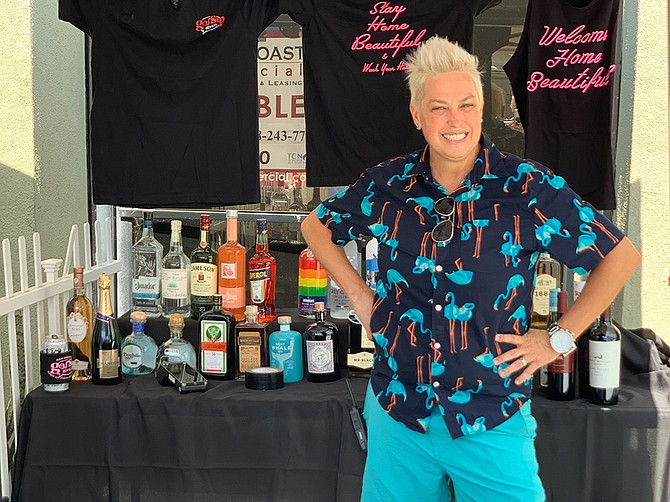 Moe Girton is the owner and general manager of 
Gossip Grill
, the successful women-forward bar, restaurant and nightclub in Hillcrest.

The inclusive spot with a full patio bar and dance floor and a big, bold black and pink neon sign inside shouting "Welcome Home Beautiful" caters to the LGBTQ+ community but offers a safe space for all.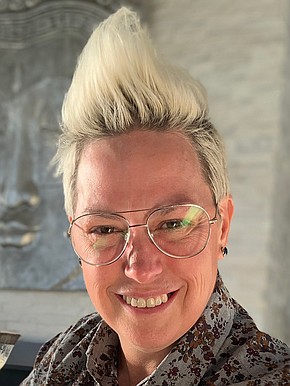 "Gossip Grill is for anyone," said Girton, 47, co-owner and general manager of the 6,000-square-foot site that opened in 2009.
 "Whether you're 10, 20 or 100 percent gay, straight, bi, pan or trans, or anything under that umbrella, you're welcome here. The cool thing about Gossip Grill is we are there for those who sometimes don't feel safe."

Girton called the site "intersectional" and said that everyone is welcome, particularly "the marginalized of the marginalized."
 
With no lack of "cis white gay bars" in the region – cis meaning those whose gender identity and expression matches the biological sex they were assigned when they were born – Girton said, "sometimes those who are black and brown, trans and non-binary, and fluid gender don't feel they have a place where they belong. This is why it is so important to keep Gossip Grill alive," she said.

Although Girton doesn't refer to Gossip Grill as a "lesbian bar," a nationwide campaign seeking to celebrate, support and preserve lesbian bars called "The Lesbian Bar Project" names Gossip Grill as one of the last 20 or so remaining lesbian bars in the U.S.

The Lesbian Bar Project said there were about 200 lesbian bars in the U.S. in the 1980s. The numbers have dwindled for a variety of reasons, including demographic changes through the years, and, since 2020, like many bars and restaurants, because of the COVID-19 pandemic.

Gossip Grill had moments of darkness during the COVID-19 pandemic, literally having to shut down for two months in 2020. But Girton said the community stepped up in a variety of ways and supported various efforts she and her staff pushed out to make it through.
Customers Help
 
Girton said she was able to secure Paycheck Protection Program funds from the SBA to pay her staff. When that money ran out, she and her staff turned to social media to ask for help, asking supporters to buy alcohol and groceries -- at prices that matched grocery stores -- from Gossip Grill.

"It was very humbling to have to ask the community for help," Girton said. "We did 'Drag Queen' delivery, unicorn delivery, we had a drive-thru."

At one point, Girton thought she might have to close Gossip Grill. In the summer of 2021 she got together with business partners Stefan Chilcote and Matt Ramon, and looked into leasing a smaller site across the street – the former home of BO-Beau's.

The trio took over the spot, named it Barrel & Board and opened it up to Gossip Grill staff. The upscale woman-forward bar and restaurant is now completely employee-owned, Girton said.

"A week after we decided to purchase that spot, we got a second PPP and two weeks later, Gossip Grill reopened," she said.

Girton said "we did a lot of work during COVID to better ourselves and to make things better for our clientele."
SD Equality Business Association/SD Business Journal Event

Gossip Grill will be hosting a special event during San Diego Pride 2022, which runs from July 9-17. The San Diego Equality Business Association along with the San Diego Business Journal will recognize the Top 50 LGBTQ+ Leaders of Influence in San Diego starting at 5:30 p.m. on Monday, July 11 at Gossip Grill.

Jeremy Wilson, president of the San Diego Equality Business Association, which advocates and supports LGBTQ+-owned businesses in the region, said that selecting Gossip Grill for its Pride mixer "was a no-brainer."

Wilson said that Gossip Grill is "the only bar left in Southern California that caters to the lesbian community."

Gossip Grill opened five years after The Flame shut its doors. The Flame was a lesbian bar in Hillcrest that closed in 2004 after 20 years in business.

Girton was working part-time at the KPBS Store of Knowledge in Horton Plaza in 2000 when she took a side job at The Flame.
 Starting as door girl/security person/coat checker, she worked her way into barbacking, then bartending and finally was manager at the Flame.

When it closed, she found a new job as a bartender at a then-new Mexican restaurant in Hillcrest called Baja Betty's. She grew with the company, made business contacts and eventually connected with Chilcote and Chris Shaw, who were running another spot, Hamburger Mary's. They asked Girton to open Gossip Grill in 2009, and the rest is "herstory."

Girton said that while the new spot Barrel & Board offers another "safe space," that Gossip Grill is the place people come to "be around those who are like minded and share your values, a place that feels like home."

"Gossip Grill is so damn special," Girton said. "It's fun, and it's welcoming. It's got its own heartbeat."
Gossip Grill

FOUNDED: 2009
OWNER: Moe Girton
HEADQUARTERS: Hillcrest, San Diego
BUSINESS: Bar, Restaurant and Club
EMPLOYEES: 65
WEBSITE: 
gossipgrill.com

CONTACT: (619) 260-8023
NOTABLE: Proprietor Moe Girton was named Miss Gay San Diego in 2003.