MILO SHAPIRO TEACHES OTHERS HOW TO BE HEARD
Walking the Walk, Talking the Talk
Thursday, June 16, 2022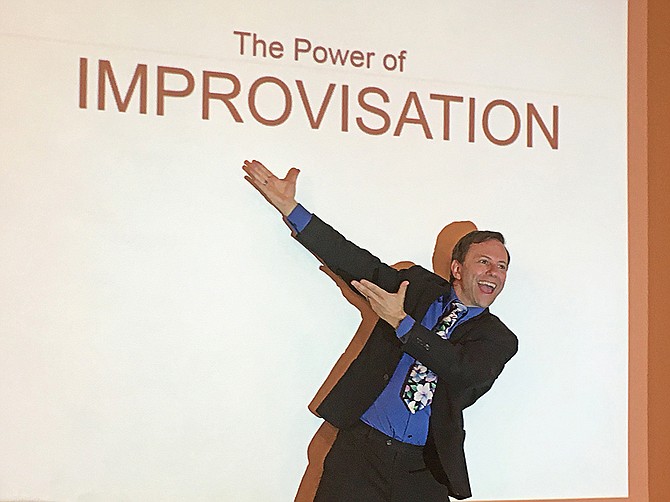 Improvisational theater is an art form that isn't for everyone, but local San Diego business owner 
Milo Shapiro
 has turned improv into a successful career for more than two decades.
Shapiro, 57, is president and "Creative Energy Officer" at IMPROVentures, a company he started in 2000 that grew out of his love for and success in improv, which began a decade earlier. "I've always been a storyteller," he said.

A 15-year National Speakers Association member and former Toastmaster, Shapiro delivers some of the most interactive motivational keynotes in the market as he gets the whole audience playing games with him.
 
"We learn so much more when we're in play," Shapiro said. "We all get that it's true for kids and think we're supposed to outgrow that need. But the brain still wants to play, especially when it gets the learning value, too."
 
Shapiro started his company with teambuilding events called "TEAMprovising," which has attendees laughing together through improv games that promote communication and problem solving.
 
That led to him being asked to speak at conferences, leading entire audiences in paired games within a program called "We Gotta Fail… To Succeed!" which looks at and why – and how – risk taking and failure help us learn, grow and succeed.

"When we try so hard to be perfect, we never learn the lessons we need to learn," Shapiro said. "You have to be willing to make those mistakes. It's part of the growing process, but you have to give yourself that permission and that's where we stop ourselves.

"Life isn't rehearsed, it's improvised! Yes, teambuilding should be fun, but if the folks don't learn anything, it disappears in two days.  TEAMprovising really gets people thinking, as the games I choose delve into my five C's: Creativity, Communication, Cooperation, Commitment and Community."
Helping Teams Communicate

Shapiro has worked with financial groups and banks, universities, hospitals and hotels, U.S. military branches and companies from Cox Communications to Qualcomm, helping colleagues connect and innovate.

"It's all about helping teams communicate with the audience, keeping it interesting and lively," he said.

Shapiro allows for improv play during his events, even leading an adult version of "Simon Says" that drives home the importance of listening skills.

His coaching tools teach people how to convey their messages, "feeling prepared, polished and powerful," with effective wording, controlled pacing, eye contact, voice usage, body language and more.
Public Speaking Coach

He has a dedicated website for his coaching of public speaking skills at publicdynamics.com

"As much as I love speaking, I was thrilled to discover this knack for watching people and showing them how they can use their face, body, voice, and especially their words more effectively," Shapiro said. "Then, add in using humor and (telling) stories better. It creates confidence as they know they're improving."

The New York native has also authored several books, including "Public Speaking: Get A's, Not Zzzzzz's!" and "The Worst Days Make the BEST Stories (and other life lessons)."

Born in Queens, N.Y., Shapiro earned computer science degree from the University of Albany, which came in handy during more than a decade of work in the IT world at San Diego Gas & Electric starting in 1989.

While working in IT, Shapiro studied improv on the side, learning about spontaneity and creativity and improv's deeper value as a way to better connect with others.

Shapiro started studying improvisation in 1990, joined his first troupe in 1992 and began teaching improv in 1993. Shapiro has traveled around the United States and Canada and served many years as the business manager of San Diego chapter of the improv chain, TheatreSports.

One of the things that draws him to improv is that you're not expected to "do a perfect show," he said. "The audience forgives your mistakes because they know the risks you're taking."

After 11 years with SDG&E, in 2000, he made the career decision that defines him now – that he wanted to apply improvisation to business practice, personal development and presentation skills.

That same year, he also started developing skills as a photo editor, helping people save damaged photographs, fix stains and tears, bring out color and re-create faded photos, starting a website freshenyourphoto.com.

"I think It's OK to have more than two talents," Shapiro said. "I've been in the business for 22 years and have yet to have a business plan."

Shapiro has done podcasts and also has a blog where he shares stories and insights, offers life tips and business ideas and has a free "e-zine" that comes out a few times a year on MiloShapiro.com.
ImproVentures and Public Dynamics

FOUNDED: 2000
PRESIDENT and CREATIVE ENERGY OFFICER: Milo Shapiro
HEADQUARTERS: San Diego
BUSINESS: Consulting and Training
EMPLOYEES: 1
WEBSITE: 
miloshapiro.com
, 
publicdynamics.com
 and 
freshenyourphoto.com

CONTACT: (619) 542-0761
NOTABLE: Milo Shapiro spent his vacation in 1989 job hunting, and landed a spot at San Diego Gas & Electric, where he stayed for 11 years before starting his own business.