Harvest Strives to be a Different Law Firm
Thursday, June 16, 2022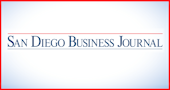 A group of lawyers from San Diego, Los Angeles, San Bernardino, Boston and New York have formed a new commercial real estate practice – 
Harvest
 - headquartered in Del Mar Heights and Los Angeles.
The name Harvest is meant to symbolize "the reward of persistent hard work coming to fruition," according to the firm.

Heading Harvest's San Diego office is Fernando Landa, who was named to the San Diego Business Journal's San Diego 500 in 2021.

A graduate of the University of Pennsylvania, Landa earned a law degree and a master's degree in real estate from the University of San Diego.

Joining Landa in the San Diego office in Del Mar Heights were Jamie Altman Buggy as partner and general counsel, Cheryl Nieman Brechlin as senior counsel, Tracy Hall as senior paralegal, and Jennifer Keating-Wolk as paralegal.

Founding partners in addition to Landa were David Alvarado and Eoin Gubbins in Los Angeles.

Partners in the new firm are Christopher Rizza in Los Angeles, Michael Rivera in San Bernardino, and Brandt Hollander in Boston.

Maeve McVeigh is counsel and director of operations in New York.
A Different Kind of Firm

Before establishing Harvest, Landa, Alvarado and Gubbins were partners at CGS3 Law and previously worked together at the law firm of Allen Matkins.

With an initial staff of 16, Landa said Harvest aims to be "a different kind of law firm that served commercial real estate clients and entrepreneurs in an entrepreneurial way."

 "We have a very robust landlord-tenant dispute practice, which many of the larger law firms don't do. They don't have that practice and we're building a core practice on helping clients navigate through landlord-tenant disputes," Landa said.

He said that includes navigating what can be a confusing array of shifting regulations on evictions that vary widely among communities.

"The courts haven't been able to pay attention to these issues yet," Landa said, adding that the new firm will work with both sides to try to reach as settlement without going to court.
Planning to Grow

"On the transactional side, we're helping landlords reposition office space that may not be in as much demand. We're helping landlords turn office into residential senior living space," Landa said. "We're helping clients convert traditional office into life science. We're helping clients reposition retail space because a lot of commercial landlords are seeking to have more experiential real estate."
 
Harvest also is trying to differentiate itself by rewriting traditional billing practices.

"We are leaning into fixed fee arrangements, particularly for some of the routine work," Landa said. "We're willing to be more flexible in terms of alternative fee arrangements."

The firm stared with a staff of 16 but Landa said the firm will likely be expanding.
Harvest

Founding Partners: David Alvarado, Fernando Landa and Eoin Gubbins
Headquarters: Los Angeles, CA
Business: Commercial Real Estate Law Firm
Employees: 16
Website: 
https://harvestllp.com/

Contact: 858.275.6239
Notable: Harvest started in May 2022 with a roster of attorneys that have negotiated billions of dollars in real estate transactions.