NONPROFITS: OPENOCEANS GLOBAL ENABLES CITIZEN SCIENTISTS
UTC Organization Aims for Cleaner Beaches and Oceans
Friday, July 29, 2022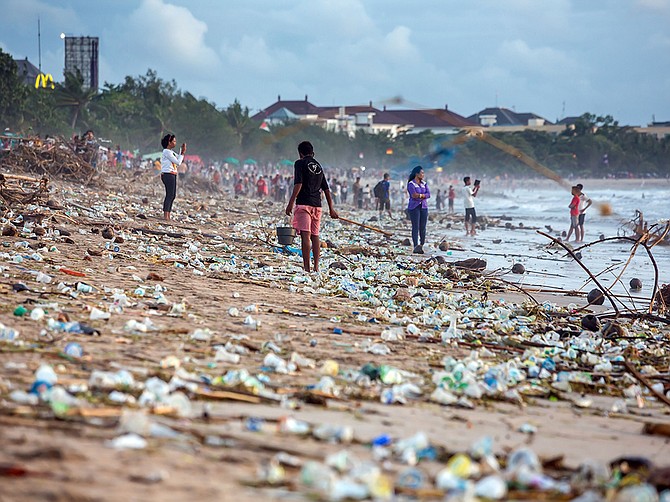 A San Diego nonprofit environmental company, 
OpenOceans Global
, has created an online application that allows citizen scientists to map coastlines around the world that have been fouled by plastic.
The goal is to visualize where plastic ends up, identify the sources, and try to figure out how to stop it, said Carl Nettleton, who created the company in 2007.

"This model says if we share information, digitalize it, we can get together and solve this problem," Nettleton said. "We're putting together what we hope will make a difference."

The mapping application became active in July at www.openoceans.org/trash-survey.
Pinpointing Plastic

"If we can see where two-thirds of the plastic is and help folks identify the source of that plastic, there are ways to stop if from getting there," Nettleton said. "It's about information. It's about connecting people, and connecting people with solutions."

The survey asks people to provide the name of the beach or area that they want listed, the location, a description of the area, the primary source of the waste, and what's being done about it.

They can also include a photo.

"The idea is by continuing to document these places, there will be an ability to visualize the scope of the problem," Nettleton said. "To our knowledge, nobody has done this. Nobody has really said where the pervasively fouled coastlines are."

OpenOceans Global is a member of the United Nations Global Partnership on Marine Litter, 1% for the Planet, R20 Regions of Climate Action, and Council for Inclusive Capitalism.
The Problem

Working with Nettleton on the mapping project is Shauna Buffington, co-founder of the Rock and Roll Marathon and vice president of global marketing for Competitor Group Inc., a sports marketing company based in Mira Mar.

"The main purpose is to make an immediate impact on the amount of plastic that is being dumped into the world's oceans," Buffington said. "Our belief is that once you can see where the plastic is accumulating, it's easier to solve the problem."

To map fouled coastlines, OpenOceans is using geographic information system (GIS) mapping software and other technology provided by Esri, a software firm based in Redlands.

"People view the ocean plastic crisis through the lenses of their own coastlines and can't see how the crisis is affecting coastlines around the world unless they visit them," Nettleton said. "We used Esri technology to build the ocean plastic trash map, allowing decision makers and the public to visualize the true extent of the problem."

Citing a report by The Pew Charitable Trusts, Nettleton said that 11 million tons of plastic reached the ocean in 2020 and that number is predicted to nearly triple by 2040.

Stopping the flow of plastic onto beaches and into oceans "is not simple task, but once people around the world working on the ocean plastic crisis can visualize the true extent of their common problem, we believe everyone from researchers and advocates to corporate leaders and government policymakers can be more effectively united to focus on solving that problem," Nettleton said.

Growing up in La Jolla, Nettleton has long been active in environmental issues as a former president and lobbyist for the National Coalition for Marine Conservation-Pacific Region, and the founding executive director of the San Diego Oceans Foundation. Nettleton is a graduate of La Jolla High School and San Diego State University.

Like Nettleton, Buffington grew up in La Jolla and traces her concern for ocean pollution to her childhood home.

"The plan is to have thousands of beaches that are mapped," Buffington said.
OpenOceans Global

Founded: 2007
Headquarters: University City
Founder/CEO: Carl Nettleton
Business: Nonprofit environmental organization
Employees: 1
Website: 
www.openoceans.org
 
Contact: info@openoceans.org
Social impact: As plastic-fouled coastlines are found, OpenOceans Global will seek to link them with solutions and others doing similar work around the world.
Notable: No other organization has set out to map, document and visualize the world's plastic-fouled coastlines.