REAL ESTATE: BROTHER-SISTER TEAM BEHIND UNIQUE LA JOLLA PROJECT
Historic Home to Become High-Tech Boutique Hotel
Thursday, July 28, 2022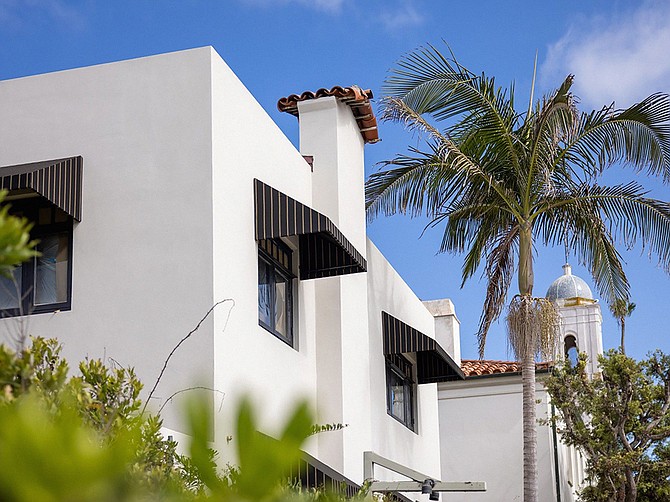 Brother and sister Hailey and Max Waitt are renovating a historic La Jolla home that had been used as a bed-and-breakfast inn into a high-tech hotel catering to the mid-20s to mid-40s traveler.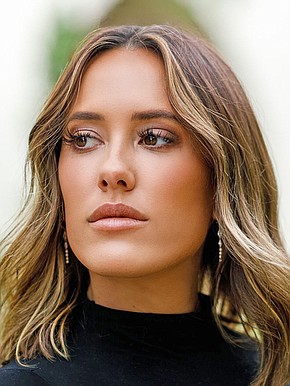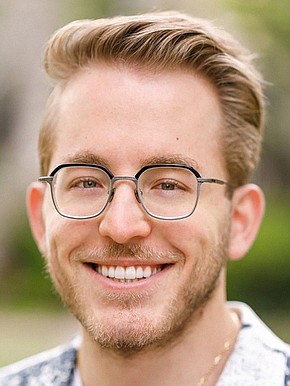 The exterior of the George Kautz House, built in 1913, will be untouched but the home's interior will get an entirely new look drawn from the style of the early 20th century – but with a modern flair, according to Hailey Waitt.

"We want you to feel that the history is there," Hailey said, "but not so much that it feels like walking into a dated hotel. We'll definitely have some pieces that are really cool and historical."
 
Designed and built by Irving Gill with the original gardens designed by Kate Sessions, the George Kautz House, 7753 Draper Ave., is across from the Museum of Contemporary Art.
Honoring History

Max and Hailey bought the property last year for $5.35 million, Max said. He declined to say how much they were spending on renovations. "That number is continually evolving," he said. "It's a fairly significant restoration budget."

Initially, Max said that he and his sister planned to give the property "just sort of a cosmetic facelift" but as they got into the project, they decided to go with a full-on renovation.

To convey a sense of history, the interior will be colorful and include bronze light fixtures and a bronze railing on the lobby stairs.

Gill's designs were big on archways, and archways were incorporated into the interior design, Max said.
 
"The flooring is original in the lobby," Hailey added.

Scheduled for completion in the fall, the renovation will include installing green marble in the lobby and adding elements and furnishing to harken back to the early 20th century.

"The rooms have been completely remodeled. Some of the rooms were just a bit too small for the modern traveler so we knocked down the walls to combine some rooms to make them double rooms," Hailey said.
Tech Driven

The biggest change will be in the use of technology that will allow guests to check in, check out, order room service, make theater and restaurant reservations and essentially arrange their entire stay without ever speaking to a human being if they choose.

"We want to really allow guests to customize their stay," Max said.

There will be an onsite concierge, but he'll be out of sight, available when needed but not stationed in the lobby as is typical in many up-scale hotels.

Max said the goal is to create a high-end hotel with nearly everything controlled though smart phones or computer tablets in a way that those in the target age group are accustomed to using.

"Everything is very tech driven," Max said. "The main thing with the rooms is just allowing the younger traveler to pick a room that speaks to them"
 
The hotel will have 13 rooms, each a different size with a different floor plan, design and color palette.

The renovated Kautz home is the first hotel for the company Hailey and Max founded last year, Orli.

"Our intention and vision for Orli are for it to be a new kind of hideaway for discerning travelers that pairs the finesse of a boutique hotel with the spirit of a homestay where you can customize your entire stay pre-arrival or at any time during your stay, arrive and go directly to your room without checking in and experience the locale as a local — all while enjoying an elevated design and tap-away convenience," Hailey said. "Our sights are on being in multiple markets but our focus is on the debut and launch of Orli in our hometown of La Jolla."

La Jolla is "a hidden gem that often gets overlooked," Hailey said.
"We happened to find this beautiful property. I do love history so I was drawn to it. We both kind of fell in love with it but it needs a lot of restoration to bring it up to its former glory."

Joshua Kordasiewicz, principal of Axon Architecture, Inc. based in UTC designed the overall renovation project. Maddie Lord, principal designer with ML Design Co. designed the interior work.