Del Mar Heights Center Draws Life Science Tenants as Market Cools
Thursday, July 28, 2022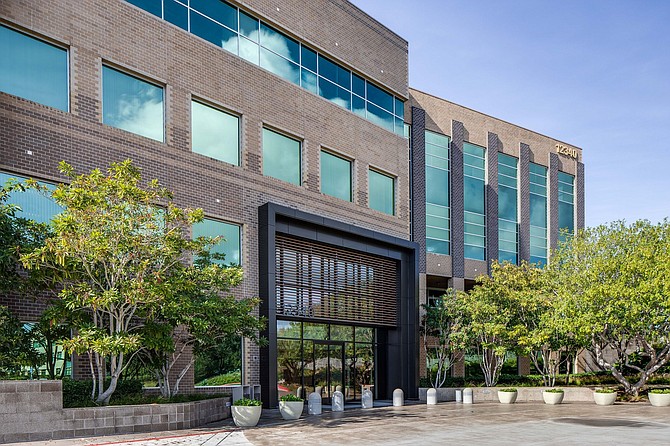 Halozyme Therapeutics has leased 72,534 square feet of space in the Del Mar Corporate Center in Del Mar Heights Corporate owned by Kilroy Realty.

In a separate deal, DermTech, Inc. expanded the space it's leasing in the Del Mar Corporate Center to 110,000 square feet after initially signing a lease last summer for 95,997 square feet.

The deals comes as the life science real estate market shows early signs of cooling toward the end of 2022, although a record amount of space was leased in the first quarter, according to JLL.

The commercial real estate firm noted that venture capital funding for life science companies was down in the first quarter of the year and JLL reported that the market faces increased headwinds caused by stock market volatility, the war in Ukraine and inflation.
Selective

Tycho Suter, vice president of investment for Oxford Properties Group, said investors and tenants are being more cautious than they have been.

"The capital markets are more in a wait-and-see mode right now," Suter said.

The Canadian-based firm in March paid $464 million for 13 buildings in Sorrento Mesa and Sorrento Valley totaling 650,000 square feet.

"The pace is probably going to slow down a fair amount compared to what it was a year before," Suter said. "The pace of the previous year or two was very remarkable and it was kind of hard to retain that pace. You're seeing that in a lot of markets."
 
Nevertheless, Suter said Oxford is looking to acquire more property if the right deal comes along.

"We are still collectively looking at acquisition opportunities. I would say selective is a pretty key word there," Suter said. "We continue to believe in the market long term."
Relocating

In the Halozyme deal, the company was relocating from three buildings it occupies in Sorrento Valley, according to Cushman & Wakefield, the commercial real estate brokerage that arranged the transaction. David Odmark, executive managing director with Cushman & Wakefield's San Diego office was the broker.

In the DermTech deal, also brokered by Odmark of Cushman & Wakefield, the company is relocating from Torrey Pines.

Odmark said that he expects the life science real estate market to level off at worst for the rest of 2022, "which is still phenomenal."

Despite its less optimistic outlook as the year progresses, JLL reported that life science leasing activity hit a record in the first quarter of 2022 with more than 1.8 million square feet of leases completed in a very tight market.

The firm reported that at the end of the first quarter, there was only 191,123 square feet of life space available, which JLL said was less than 1% of the total existing supply of lab space.

JLL's cautious forecast was based partly on the downturn in venture funding that JLL said has decreased for the past five quarters and the lack of new life science IPOs in the first quarter.

"As a result, we expect leasing activity to return to pre-COVID levels as biotech companies reassess and adjust their real estate strategies," JLL wrote.