40 Next Top Business Leaders Under Forty 2022
Thursday, July 28, 2022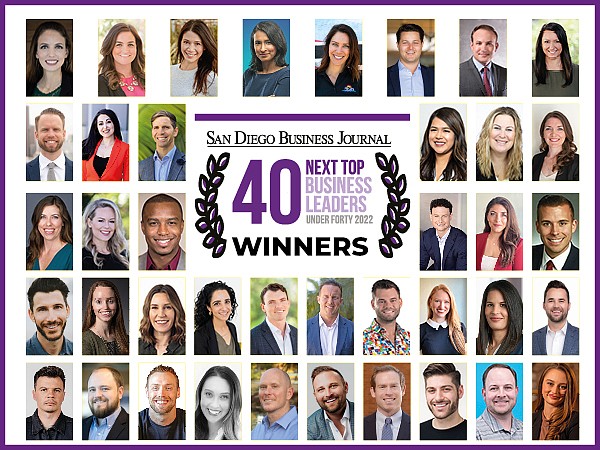 The 40 Next Top Business Leaders Under Forty for 2022 have been chosen. 
Congratulations to the winners, announced Wednesday (July 27) at the University Club Atop Symphony Towers.
Watch for complete coverage in the Aug. 15 issue of the San Diego Business Journal.
Special thanks to both the University Club and the North San Diego Business Chamber for making the event memorable.
In alphabetical order, the 40 Next Top Business Leaders Under Forty for 2022 are ...
Robbie Beyer - RSM US LLP
Innesa Burrola - Boutique Recruiting
Will Cherashore - Evans Hotels
Esperanza Daniel - Enterprise Bank & Trust
Zac Dobbin - Cleantech SanDiego
Marko Dragovic - Less & Associates Commercial Real Estate Services Inc.
Zeb Evans - ClickUp
Lupe Flores - Chicano Federation of San Diego County 
Alexandra Gerritsen - Artemis Institute for Clinical Research
Malaina Gusmann - Rady Children's Hospital
Brooke Haggerty - Faunalytics
Taylor Harrell - MAAC
Jordan Harrison - Reality Changers
Whitney Hill - Snap ADU
Emily Hill - University of San Diego
Angela Kozlowski - Cox Media
Neha Krishnamohan - Kinnate Biopharma Inc.
Stephen LaFata - UBS
Alex Loker - Rady Children's Hospital
Kyle Mandala - RSM US LLP
 Adam Markowitz - Drata
Christine Martin - NuVasive
Sara McCutchan - Aristea Therapeutics
Angela Minardi - Fit City Adventures
Kenneth Moore - Intesa Communications Group
Kyle Nageotte - Higgs Fletcher & Mack
Ilo Neukam - The Collective
Jennifer Pellegrini - Illumina
Nicole 'Nikki' Rivers - Mintz
Ryan Shannon - IQHQ
Artem Shirkey - Balfour Beatty
Tyler Sickmeyer - Fidelitas Development
Lauren Slatinsky - Cultura
James Sly - East County EDC
Jacques Spitzer - Raindrop Agency
Beracah Stortvedt - Marsh & McLennan Agency
Vincenzo Tarantino - Options For All
Pat Weathers - JLab
Sierra Weyer - Sycuan Casino Resort