MEDTECH: ADVANCED ALLOY AND AI POWER BRIUS 'INDEPENDENT MOVERS'
New Technology for a 'Perfect Smile'
Monday, July 18, 2022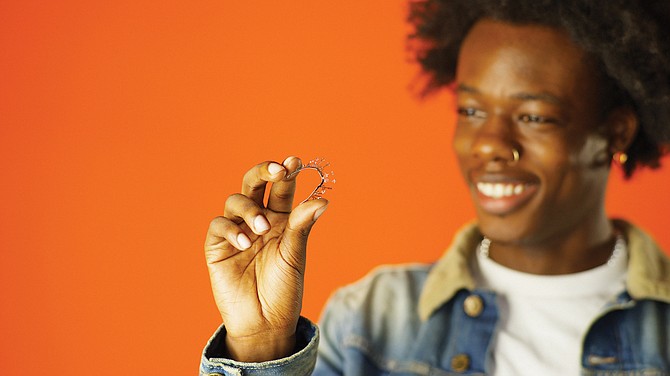 Over the years, innovations in orthodontics have been relatively few and far between. Clear plastic aligners, such as Invisalign, have been on the market for almost 25 years. Before that, braces, first developed in 1819, were the only technology used to straighten teeth.  
Now, Carlsbad-based 
Brius Technologies
 has created a new category of teeth straightening – the "Independent Mover" – a trademarked term for the company's Brava system which uses advanced alloys developed for the space program and AI software to guide each tooth to a desired position independently.
Memory Movers
 
"In traditional braces or aligners, all the teeth are together, either attached by one wire or by one tray of plastic so that when one tooth moves it impacts the teeth around it and the efficiency with those teeth move," said Brius CEO Ted Schwarz. "What makes [Brava] unique is the product itself is made out of NiTi, nickel titanium, which is a memory alloy."
 
That alloy is shaped into a device attached out of sight to the back of the teeth – both bottom and top arches – using scans provided by an orthodontist. Then Brius' software uses the images to design a patient's "perfect smile." Once the doctor approves the smile, the AI then designs the Brava appliance with independent arms for each tooth set to the final destination for that perfect smile. Because the alloy is a memory alloy, once the device is placed on crooked teeth, it begins returning to its original position, coaxing each tooth along with it. And once the tooth is set, it doesn't impact the teeth around it.  

"So, it's actually a heathier way to move teeth because it's a very consistent, gentle force over a long period of time so it's healthier for the roots, it's healthier for the gums and it's much more efficient," Schwarz said.
 
Brius Co-founder and Chief Medical Officer Dr. Mehdi Peikar, an orthodontist and physicist, developed Brava to find a new solution to straighten teeth after seeing his patients struggle with the anxiety of wearing braces, their lack of confidence from crooked teeth and the length of time and multiple office visits it took to achieve their desired result.
 
"There had to be a more efficient and aesthetic way to achieve a beautiful smile that was also a better experience for both the patient and the orthodontist," he said. "There needed to be a new and innovative approach to teeth straightening that was different from traditional methods. Now, with Brava, there's a more modern way to straighten teeth."
 
Brava's modern approach offers advantages to traditional braces, including needing less time to straighten teeth, less visits to the doctor and easier care for the teeth.
 
"Because there's no wires, you can floss and brush as normal, so your hygiene is also not affected, which is a big advantage," Schwarz said.  
Big Business
 
Schwarz took the CEO job at Brius in September 2020 after being contacted by a recruiter. Before that he had led several companies in the dermatology, skincare and beauty industries.
 
"What's similar about all those things is it's about ultimately a 'hashtag patient experience' that uses a doctor or professional in the middle," he said, adding that his expertise is in helping companies deploy the "market of professionals to bring products to patients."
 
Schwarz said he took the job to lead Brius based on his own and his five children's experience with braces.  

"The recruiter called me about this opportunity and when they said this technology moves teeth twice as fast, it's invisible and there's fewer visits, I said, 'First of all my kids are interested, so even if you're not interested in me, I'm interested in you,'" he said.

The market for young adults and parents of children who desire straighter teeth extends well beyond the Schwarz family. According to Fortune Business Insights, the U.S. orthodontics market is projected to grow from $3.76 billion in 2022 to $9.6 billion by 2029, at a CAGR of 14.3%.
 
Brius is already positioned to capture some of that growth. Brava is already covered by insurance and the cost is "comparable to aligners, which are slightly more than braces," Swartz said.
 
Brius launched the platform just 14 months ago but has already begun expanding its reach. The company recently moved into a space in Carlsbad Village where it operates a working clinic and its corporate offices. Manufacturing and R&D is handled at a facility in Carrolton, Texas.
 
Schwarz said the business model for Brius is to focus on selling the Brava product, rather than open its own line of Brava clinics.
 
Currently, Brius trains orthodontists at its Carlsbad facility or through a field team, but the goal is to eventually have the new "independent mover" method taught at dentistry schools for quicker adoption.  
Brius Technologies

Founded: 2016
CEO: Ted Schwarz
Headquarters: Carlsbad
Business: Maker of "independent mover" devices for orthodontics
Revenue: Undisclosed
Employees: 50+
Website:
www.brius.com
and
www.bravasmile.com
Notable: Brius Technologies' Brava teeth straightening devices are made with a memory alloy developed for space applications.