AEROSPACE: POWAY COMPANY WILL OFFER SUPPORT IN YUMA AND AN UNDISCLOSED LOCATION
GA-ASI to Maintain Reaper Aircraft in $34.6M Deal
Friday, July 15, 2022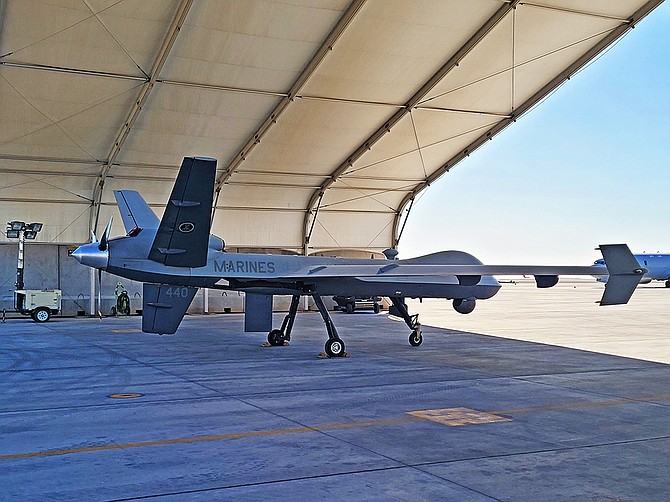 The Department of the Navy awarded Poway-based General Atomics Aeronautical Systems Inc. a $34.6 million modification to a previously awarded contract. This modification exercises an option to provide maintenance services, supply chain and spares management, and logistics and sustainment support for the U.S. Marine Corps' MQ-9 Reaper aircraft and a dual control mobile ground control station to ensure they are mission capable. Work will be performed in Yuma, Arizona (45%); Poway (10%); and an undisclosed location outside the continental United States (45%), and is expected to be completed in July 2023. The Naval Air Systems Command at Patuxent River, Maryland, awarded the contract, announced on June 30.
General Atomics Aeronautical Systems is an affiliate of San Diego-based General Atomics and is privately held.
RQ to Build in Louisiana

The U.S. Navy awarded RQ Construction LLC of Carlsbad a $36.4 million, firm-fixed-price task order under a multiple award construction contract for an entrance road and gate complex at Barksdale Air Force Base in Louisiana. The work to be performed provides for the design and construction of a new entrance road and an entry control facility that provides a point of entry for personnel, visitors and deliveries to Barksdale AFB. The contract contains two options, which if exercised, would increase the cumulative task order value to $36.9 million. Work is expected to be completed by December 2025. The government received seven proposals for this task order. The Naval Facilities Engineering Systems Command Southeast of Jacksonville, Florida awarded the contract, announced on June 30.
Army Pact Worth $15.7M for Genasys

Genasys Inc. (NASDAQ: GNSS) of Rancho Bernardo said on May 28 that it received a follow-on, $15.7 million LRAD 450XL systems order from the U.S. Army. The business received the order under the Army's Acoustic Hailing Device (AHD) Program of Record.

LRAD systems broadcast attention-commanding alert tones and audible voice messages with exceptional clarity and intelligibility to communicate clearly, resolve uncertain situations and reduce non-combatant casualties.

"The LRAD 450XL provides soldiers with unparalleled long-range communication, scalable, non-kinetic escalation of force capabilities and mission versatility," said Genasys CEO Richard S. Danforth.
 "This order demonstrates the Army's ongoing commitment to nonlethal capabilities that expand the range of options for Active, Reserve and Guard units engaged in combat, crisis response and security cooperation operations."

Low profile, lightweight and designed to be mounted on tripods, vehicles, small vessels and Common Remotely Operated Weapon Stations (CROWS), the LRAD 450XL generates the audio output of AHDs almost twice its size and weight, while delivering the highly effective, long-range communication inherent in all LRAD systems.
Point Loma Work for Washington Firm

The U.S. Navy awarded Empire Hospitality LLC, a small business from Vancouver, Washington, an $11.3 million contract to provide long-term lodging for Portsmouth Naval Shipyard San Diego Detachment personnel. The contract was expected to be completed by June 2022, and July 2023 if all options are exercised. Work will be performed at Naval Base Point Loma. This contract was competitively procured via the beta.sam.gov website, with five total offers received. The Portsmouth Naval Shipyard at Kittery, Maine awarded the contract, announced on June 30.