DESIGN: SPURLOCK LANDSCAPE ARCHITECTS WINS TOP HONOR
Mission Trails Park Station is a Winner for Landscape Design
Thursday, July 14, 2022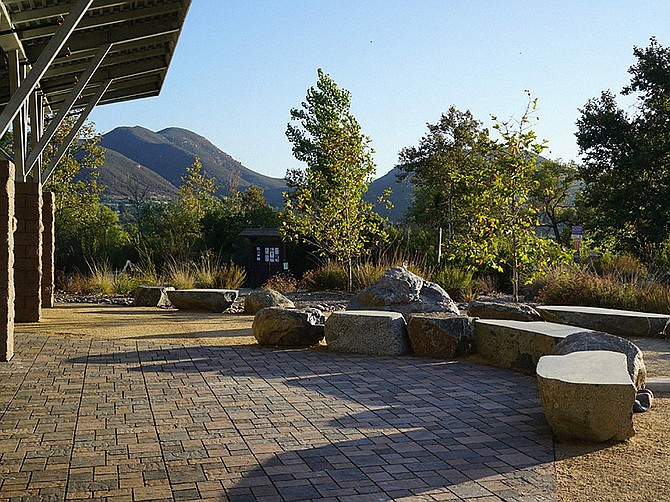 Landscaping for the Mission Trails East Fortuna Field Station earned 
Spurlock Landscape Architects
 top honors from the San Diego Chapter of the 
American Society of Landscape Architects
.

The award, presented in June, was particularly gratifying because public works projects are rarely given much notice, said Leigh Kyle, a principal of Spurlock Landscape Architects.

"Often projects that win are more glamorous," Kyle said. "This is a modest but really important piece of public infrastructure."

This must have been a year for exceptions, because San Diego City planners also were singled out for an honors award from the American Society of Landscape Architects for the Parks Master Plan.
Attention to Detail

In giving Spurlock the society's President's Award, judges wrote that the Mission Trails stood out because "the way this project fits within the context of its surroundings is simply hand-in-glove."

"The plant palette, paving palette and building materials are sequenced in a delightfully natural and seamless manner, showing an obvious attention to detail but at the same time an impressive degree of restraint," the judges wrote. "Its beauty and quality of design are hard to ignore."

Kyle said some of the credit goes to park rangers, who worked closely with Spurlock in designing the project and were strong advocates of using native plants that blended in with the park's natural environment.

"They're not just California native but they're Mission Trails native. That means that the plants that we used really knit into the context in a beautiful way," Kyle said. "If the city hadn't been such a great advocate for that approach, it might not have gone that way."

The nearly one-acre site includes a 5,000-square-foot ranger station and a 2,000 -square-foot shade structure within the more than 8,000-acre park.

The landscaping on the site includes a series of 18 boulders at the rear of the station with the tops sliced off four of the boulders to create natural benches.

"It's also got a couple of nice ridges that lead you up to the public seating area," Kyle said.

Plants include sycamore and coastal live oak trees, sage and California sunflowers.

"It's very fragrant. There's a lot of change in it seasonally. It looks very different from spring to fall. It also looks different from morning to afternoon. The plants are backlit and it shows off differently, depending on the time of day that you're out there," Kyle said.
The project includes public artwork created by Roman de Salvo – a large boulder with details carved into its service. Water flows down the boulder from a drinking fountain at the top.
Equity

In singling out city planners for an Honor Award, society judges wrote that the plan "takes complex information and breaks it down graphically in a manner that is digestible."

"The emphasis on the role that parks plan in equity is commendable," the judges wrote, adding that it's "imperative to highlight these issues and address them."

Adopted in 2021, the master plan took several years to produce and replaced one that dated back to 1956. It includes a revised funding formula and criteria for park development aimed at developing parks in underserved communities that have a park deficit, taking a particular look at more urban neighborhoods.

Sameera Rao, acting program manager with the city's Planning Department, said that "a public project winning an Honors Award is pretty nice."

"We're just very excited that we're recognized for this," Rao said.
Schmidt Design Group also received an Honor Award for Civita Park in Mission Valley and for the E Street Greenway linear park in downtown San Diego.
American Society of Landscape Architects San Diego Chapter

Founded: 1976
President: Patricia Ferman, principal landscape architect, City of Chula Vista
Headquarters: Point Loma
Members: 285
Business: Trade organization
Website: 
www.asa-sandiego.org

Contact: 619-283-8818
Social impact: Climate action education, water conservation, stormwater mitigation, habitat restoration, ACE Mentor program volunteers.
Notable: The society represents landscape architects in private, public and academic practices.
Spurlock Landscape Architects

Principals/Partners: Brad Lents, Leigh Kyle, and Yu-Ju Liu
Headquarters: 2122 Hancock Street, San Diego, CA 92110
Business: Landscape Architecture, Urban Design, and Planning
Employees: 19
Website: 
www.spurlock-land.com

Contact: 619-681-0090 / info@spurlock-land.com
Social impact: Makes yearly charitable contributions to communities and organizations including the San Diego Food Bank, San Diego Habitat for Humanity, San Diego Coastkeeper, Forever Balboa Park, San Diego Canyonlands and The Cultural Landscape Foundation
Notable: Spurlock Landscape Architects is a certified SLBE (Small Local Business Enterprise) by the City of San Diego, a certified SBE (Small Business Enterprise) by the State of California Department of General Services, and a certified WOSB (Woman Owned Small Business) by the NWBOC (National Women Business Owners Corporation).