Kearny Mesa Office Park Sold
Tuesday, July 5, 2022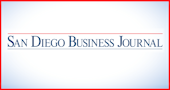 Brixton Capital based in Solana Beach has sold a Kearny Mesa office park for an undisclosed price.
The 99,822 square-foot office park at 9619 Chesapeake Drive and 9444 Farnham St. was bought by MC Strauss Company.
Park tenants include Scripps Health, Q.E.D. and Patenaude & Felix, A.P.C.
After acquiring the property in 2015, Brixton conducted a thorough renovation of the property, including re-painting the exterior, upgrading the landscaping, and remodeling all the lobbies and common areas.
Rick Reeder, Brad Tecca, Bill Cavanagh, and Mike Novkov from Cushman & Wakefield represented the sellers. The buyer represented itself.