Women Empowering Women: Influential Leaders Share Insights
Monday, January 31, 2022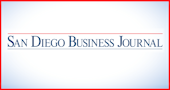 Ten of San Diego's most dynamic business leaders recently took honors in the 2021 Business Women of the Year Awards.

The San Diego Business Journal and event sponsors played host to the women during an awards ceremony on Nov. 18 at the Hilton San Diego Bayfront, and again during a special breakfast on Dec. 10 at the University Club atop Symphony Towers.

Both events featured thought-provoking panel discussions.
View the 2021 Business Women of the Year event here.

Repeatedly, panelists came back to questions of how and why -- how can women rise to the top in their careers? How might women better help each other? Why does the status quo have to be that way?

"Women empowering women is essential to our success," said San Diego Business Journal Publisher Barb Chodos at the beginning of the awards ceremony.
Winners for 2021 were Jennifer Barnes, CEO and founder of Optima Office (medium company); Carrie Bobb, founder and CEO of Carrie Bobb & Co. as well as hellojenny (rising star); Teresa Campbell, CEO and president of San Diego County Credit Union (large company); Mary Cheeks, general manager of Jamul Casino (large company); Anna Crowe, founder and CEO of Crowe PR (small company); Pamela Gardner, president and CEO of Biotech Vendor Services (small company); Diane Hansen, CEO of Palomar Health (large company); Tina Howe, vice president of The Bill Howe Family of Companies (medium company); Tracy A. Murphy, president and co-founder of IQHQ (medium company); and Chelsea Wilson, founder and CEO of 3CS (small company).
University Club Winners Breakfast

A winners' follow-up breakfast was held at the University Club atop Symphony Towers in downtown San Diego. The Dec. 10 event, sponsored by JPMorgan Chase, included a lively roundtable discussion about ways women can break down barriers to equality and inclusivity in the workplace — and truly support and empower one another in the process.

Attending the breakfast event were 2021 honorees Jennifer Barnes, Carrie Bobb, Pamela Gardner and Anna Crowe.

Sponsor JPMorgan Chase kicked off the breakfast roundtable by introducing to the community its long-held initiative – Women on the Move – that supports the bank's own female employees and "embraces their ability to grow." In the community, Women on the Move focuses on three key areas – expanding women-run businesses, improving their financial health and advancing their career growth.

"This is the right time for us to get involved with women's issues and an event like this supporting such outstanding women," said Bambos Charalambous, managing director and market team lead in San Diego for JPMorgan Private Bank.

At one point during the roundtable discussion, Charalambous asked, "How do you measure success?" in terms of inclusivity for women in the workplace.

"The data supports inclusion," Charalambous said later in the discussion.

"Leading by example is important but you've still got to make your work accountable to some analytics," Crowe said.

Carrie Bobb agreed. "We need to establish benchmarks," she added.

"Feedback" and "authenticity" in the workplace are both really important issues for women to focus on right now, roundtable members agreed.

Aaron Ryan, San Diego region manager of Middle Market Banking at JPMorgan, also participated in the roundtable. Ryan said it's important to be "intentional" when supporting and encouraging women in the workplace. "We have a responsibility to empower women in leadership positions," he added.
A Spotlight on Female Founders

Female entrepreneurship was a popular topic at the breakfast, and several attendees mentioned their membership in the local chapter of EO – Entrepreneurs' Organization – an exclusive, nationwide peer-to-peer network for entrepreneurs.

Two of 2021's Business Women of the Year winners — Jennifer Barnes, CEO of Optima Office and Pamela Gardner, CEO of BVS (Biotech Vendor Services) — stressed the importance of encouraging and supporting female entrepreneurs, at all stages of their development — and at all ages.

Pamela Gardner's passion is empowering women in STEM. "Women are making progress," she said. "Confidence internally helps women thrive externally. We need to lift each other up."

Barnes' company, Optima Office, specializes in providing outsourced "fractional" CFOs and COOs as well as key finance, accounting and HR personnel to area companies.

During her introduction, Anna Crowe briefed roundtable participants about a brand-new entrepreneur's summit being planned for June 2022 in San Diego.
 The inaugural event will bring together area girls as young as elementary school-age and local women leaders for professional development workshops and entrepreneurial discussions.

Crowe, founder and CEO of Crowe PR, is a recognized public relations and marketing expert and best-selling author of "Get Real: The Power of Genuine Leadership, a Transparent Culture and Authentic You." She said organizers planned to reach out to area schools to encourage student participation in the teen and pre-teen-focused entrepreneurial summit.

Carrie Bobb, founder of Carrie Bob & Co. and hellojenny, said women should not sell themselves short. During the roundtable discussion, Bobb said, "Women often undervalue what they bring to the table" in the workplace.
Landmark Legislation

During her self-introduction at the event, Bobb briefly described her heroic personal story of overcoming a horrific workplace assault, which today has led to 'Carrie's Law' — new federal legislation passed by Congress to better protect women in the workplace.

"Three years ago, I could never even imagine being here," Bobb said, recounting lobbying trips to Washington, D.C. to get the landmark legislation through Congress.

A commercial real estate leasing specialist who's notched more than $2 billion in transactions, Bobb is SDBJ's 2021 Business Women of the Year Rising Star winner.

In 2019, she founded Carrie Bobb & Co., a positively disruptive commercial real estate leasing firm. This year, she launched hellojenny, a social media company that leverages social media platforms for retail properties.

Bobb's inspirational message was well received at the awards breakfast.

"Women need women to teach them how to avoid the mistakes they made," she said at one point during the more than hour-long discussion.

Anna Crowe said women shouldn't "be afraid" to ask for what they want.
"Another woman's success doesn't compete with yours," she added. "As women, we're not always great at self-promotion. So, I think it's really important for women to help each other and be supportive."

Leading by example also is important, Crowe said.

Jennifer Barnes agreed, adding "giving back" is key. "It's truly important to do what you can to support young and upcoming women," Barnes said. "Girls need mentors – and also need to understand they don't need to have all the answers."
Tactical Advice

The November awards ceremony also featured stimulating conversation.

Nikki Atkins Hartung of JPMorgan Chase & Co., who moderated the panel discussion, asked panelists for "tactical" advice — advice for getting into the thick of the struggle, and getting results.

"So many women that are really talented with a ton of potential are never going to raise their hands and say, 'Hey, I'd love a mentor.' or, 'I could use some support or would love an advocate,'" she said. "That's why I truly feel like it's our responsibility to make that happen."

Panelists during the main event were Theresa Clements, Lydia Huard, Alessandra Lezama and Christiane Tsuda.

"I think we [women] are our own worst enemy sometimes," said Christiane Tsuda, vice president and senior portfolio manager, investment management and trust at The Private Bank, Union Bank. "One of my favorite quotes is 'Be the woman who fixes another woman's crown without letting the world know it was crooked.'"

She also took on the issue of the business community discounting women's opinions. "We make our opinions heard, and then we're dismissed as being emotional or not well-thought-out," she said. "And it's this sisterhood of women that have come alongside to say, 'No. You're passionate. You're not emotional.'

"A supportive word goes a long way to making sure that everyone succeeds."
Putting the Three B's to Work

Lydia Huard, market manager at Wells Fargo Home Mortgage, told her listeners that if they want to get ahead, they should employ "the three B's" — be bold, be brilliant and be brief.

"Be bold," she said. "Bold to say to whoever, 'This is where I want to be.' … Second, be brilliant. Brilliant in the sense that you stand out."

"And then when the time came to meet the right people, I had to be brief," she continued. "Don't talk their ears off. ... And make sure you get that next networking."

Alessandra Lezama, CEO and founder of TOOTRiS, said that the No. 1 cause for women not succeeding in business is lack of self-esteem or lack of security.

Lezama said women need to cheer each other on, to tell their co-workers, "Hey, put your name in the hat for that position. You're the best!"

"Because, guess what? Men never care whether they are qualified or not before putting their name in the hat. And nine out of 10 times, they get the job anyway.

"I've got a great story," she continued. "I lost a VP position because I was so afraid I was just not qualified. And the guy that got the job was less qualified than me, but he was bold enough to put his name in the hat.

"So speak up. Be loud."

Lezama also acquainted her audience with the expression G T S O P, an abbreviation for 'get that stuff on paper' (though in many workplaces the term "stuff" is substituted with another word). "You've got to have goals," she said. "You've got to have purpose."
'Tell Your Truth'

Women need to level with each other, said Theresa Clements, treasury solutions sales group executive and executive director at JPMorgan Chase & Co.

"I think it's important to be honest, tell your truth," she said. "And when you're talking to other women, not make it seem like everything is great and OK, and you are able to juggle 5 million things — but to really be transparent about what's happening, maybe what you're struggling with.

"I think that you will find that everybody that you talk to is also struggling," she said. The discovery is important, and will lead a person to realize, "OK, I can get through this."

Sponsors for the awards ceremony were Adelante Strategies, The Central San Diego Black Chamber of Commerce, the Cyber Center of Excellence, the Downtown San Diego Partnership, JPMorgan Chase & Co., Kaiser Permanente, the National University System, the San Diego County Regional Airport Authority, the San Diego Employers Association, TOOTRiS, Union Bank and Wells Fargo.