NONPROFITS: SAN DIEGO-BORN FUNDRAISING FIRMS UNITE
GoFundMe Buying Nonprofit Fundraising Platform Classy
Tuesday, January 25, 2022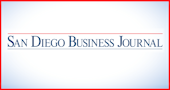 Two San Diego-born and bred companies will be joining forces later this year to become the go-to spot for people looking to donate to causes that matter to them.
GoFundMe
announced earlier this month that it is acquiring
Classy
, a nonprofit fundraising software company.
"GoFundMe's vision is to be the most helpful place in the world and partnering with Classy enables us to do that in a differentiated way," said GoFundMe CEO Tim Cadogan.
Classy CEO Chris Himes said the two companies have always had strong rapport.
Himes, who has been involved with Classy in San Diego since 2012, said he developed a strong friendship with Cadogan and that the two began talking in the spring of 2021 about doing more partnerships together.
"We just kind of kept talking shop," Himes said. "We're both in the business of giving and helping people and so we would talk every few weeks, and you know we really enjoyed that and we just started to write a Google doc together around the vision of a shared entity."
Their original half-page Google document soon became six pages and then others in the companies were invited to join in and "it became really like the whole point of why we're doing this."
Almost $5B Raised Last Year

Nearly $5 billion was raised in 2021 on GoFundMe and Classy combined, and more than $20 billion has been raised on the GoFundMe and Classy platforms all time.
Classy was originally founded by Scot Chisholm, Pat Walsh, Marshall Peden and Joe Callahan in 2006 to host fundraising events that benefit charities.
Nonprofits on the Classy platform raised $1.1 billion in 2021 and the company is poised to pass $4 billion all-time.  Its platform enables nonprofit organizations to connect donors with the causes they most care about.
GoFundMe, founded in 2010 by Brad Damphousse and Andy Ballester as a platform for charities to raise money online, has grown to be the world's top online crowdfunding service.
Classy has 330 total employees and GoFundMe has about 400, nearly 200 of them working out of its San Diego office. Classy's San Diego headquarters are in the Diamond View Tower across from Petco Park.
All About San Diego

"San Diego is a big part of this story," he said. "It's a great talent market and our sense of community is incredibly strong. We love San Diego and are all about it."
GoFundMe's corporate headquarters moved from San Diego and is now in Redwood City. It also has offices in Los Angeles as well as England, Ireland, France, Spain, Germany and Italy.
Since its beginnings, GoFundMe has helped raise more than $15 billion through 200 million donations from both individuals and organizations.
The all-equity deal, expected to close in the first quarter of this year, was announced Thursday, Jan. 13. No purchase price was disclosed.
"We didn't talk about stock or money until very, very late in the process," Himes said. "This was entirely about the vision and building some things that nobody's ever seen before. It was really cool."
"It was not like 'let's get market power, let's cross sell, let's consolidate supply chains, let's save money," Himes added. "We didn't talk about any of that. All we talked about was the power of donors, fundraisers and organizations that help people."
Under One Umbrella

Bringing Classy under its umbrella allows GoFundMe to add to its network in the growing philanthropic market.
The acquisition will enable GoFundMe to bolster its Business-to-Consumer (B2C) and Business-to-Business (B2B) reach.
While GoFundMe works by allowing individuals to set up fundraising websites to collect money from other individuals, Classy works with nonprofit organizations via software-as-a-service (SaaS) to address root causes that drive needs for fundraising.
The deal is structured so that Classy will be a subsidiary of GoFundMe and the companies will continue to operate as separate entities, with Himes reporting to Cadogan.
Himes said the acquisition will allow Classy to expand into new offerings, including workplace giving and donor acquisition. Workplace giving will likely be one of the first things the companies start working on jointly, he added.
"There are a number of existing established sort of top-down workplace giving tools that the employers really want the employees to engage with and use," Himes said. "The employees just want to use GoFundMe. They don't want to have a volunteer event, they want to do a GoFundMe and go out to dinner. What's missing in that is the employer wants to pay for the dinner and encourage that coming together but they also want to know what's happening. They want kind of a roll up of the community impact, they want to be able to match some of the donations with corporate giving and they just want visibility."
Himes added: "Classy is pretty good at providing the admin layer, the analytics, the aggregation of data, integration, things like employer matching. That's what we do. And GoFundMe is really, really good at super flexible, fast and powerful people-led fundraising campaigns. So you take kind of the employee level at GoFundMe and the employer level at Classy and you combine the two in a piece of software that works and you've got kind of a hit on your hands. Because the employees matter most and they're already using it. I'm excited about that one."
Classy
Founded: 2011
CEO: Chris Himes
Headquarters: Gaslamp Quarter
Business: Fundraising platform for nonprofits
Employees: 240
Website: 
www.classy.org

Notable: In 2021, Classy acquired virtual/hybrid events platform Fondi