GoFundMe Buying San Diego's Classy
Originally published January 13, 2022 at 11:25 a.m., updated January 13, 2022 at 11:39 a.m.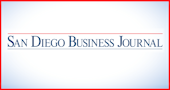 GoFundMe has announced that it will acquire San Diego-based Classy, a nonprofit fundraising software company
founded in 2006,
originally
to host fundraising events that benefit charities.
The all-equity deal, expected to close in the first quarter of this year, was announced Thursday morning (Jan. 13). The purchase price was not disclosed.
Bringing Classy under its umbrella allows GoFundMe to add to its network in the growing philanthropic market. Since its start in 2010, GoFundMe has helped raise more than $15 billion through 200 million donations from both individual people and organizations.
Classy enables nonprofit organizations to connect donors with the causes they most care about. Classy's platform drew $1.1 billion for nonprofits in 2021. Its all-time donations total is close to $4 billion.
The acquisition will enable GoFundMe to bolster its Business-to-Consumer (B2C) and Business-to-Business (B2B) reach, creating more opportunities to tie in with people and organizations.
"By leveraging the power and scale of the GoFundMe network, we can open doors to connect individuals giving to a GoFundMe campaign with the nonprofit organizations addressing the root cause driving the need," Classy CEO Christopher Himes said, in a media release. "This is an opportunity that could change our industry in a way that has never been done before."
GoFundMe CEO Tim Cadogan said the GoFundMe and Classy platforms raised a combined $5 billion in 2021. Cadogan also said that his company's purpose has always been to help nonprofits raise more so they can increase programmatic impact. "GoFundMe's vision is to be the most helpful place in the world and partnering with Classy enables us to do that in a differentiated way."
The acquisition will allow Classy to expand into new offerings, including workplace giving and donor acquisition, Himes said.
Classy, a B Corp Certified Public Benefit Corporation, will be a subsidiary of GoFundMe and the companies will continue to operate as separate entities, with Himes reporting to Cadogan.