TECHNOLOGY: BIG RIG NEGOTIATES 80 MILES WITH NO HUMAN INTERVENTION
TuSimple Achieves Driverless Feat
Monday, January 10, 2022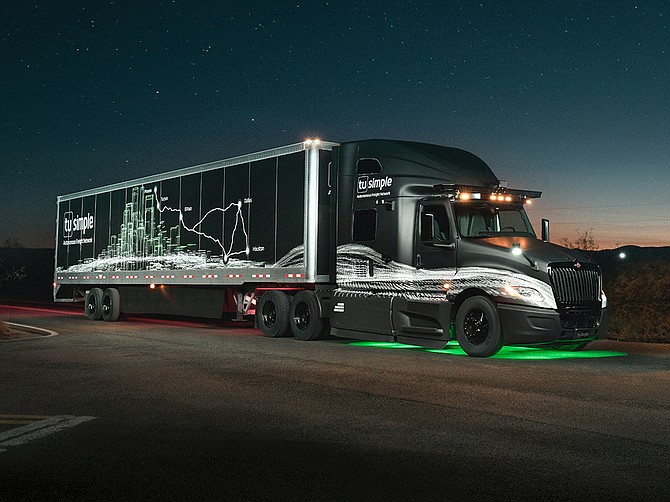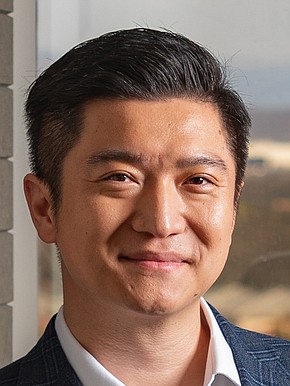 San Diego-based 
TuSimple
 (Nasdaq: TSP) displayed the capabilities of its autonomous big-rig truck with an 80-mile nighttime run between two Arizona cities — on public highways, alongside other vehicles, with no human in the cab.
With the Dec. 22 demonstration, TuSimple became the world's first company to successfully operate a "driver out," fully autonomous semi-truck on open, public roads.
 
The test featured no human remote control.
"This is a tremendous milestone for TuSimple in demonstrating the possibility of full-scale autonomous driving solutions for trucks," said Cheng Lu, president and CEO of TuSimple. He spoke from CES, the big annual electronics show in Las Vegas, where he was making presentations.

The business announced the journey on Dec. 29, calling it "a critical first step in scaling autonomous trucking operations on the TuSimple Autonomous Freight Network."
Arizona Freeways

TuSimple's class 8 autonomous truck began its trek from a large railroad yard in Tucson, Arizona, and traveled more than 80 miles on surface streets and freeways, safely arriving at a distribution center in the Phoenix metro area.

TuSimple said its ADS, or Autonomous Driving System, successfully navigated surface streets, traffic signals, on-ramps and off-ramps. It was able to change lanes and interact with other motorists.

To ensure public safety, TuSimple worked closely with the Arizona Department of Transportation and law enforcement. It implemented a TuSimple survey vehicle to look for anomalies operating over five miles ahead, an oversight vehicle capable of putting the autonomous truck in a minimal risk condition trailing behind, and law enforcement vehicles following at a distance of one-half mile as an extra layer of safety precaution.
More Work Ahead

TuSimple executives and shareholders are developing a commercial-ready, fully autonomous (SAE Level 4) driving solution for long-haul heavy-duty trucks. The late December demonstration ushers in another 12 months of tests, the company said.

TuSimple has a track record of demonstrating progress hitting milestones it has set out to achieve, Lu said. "We will work feverishly in 2022 to do the same," he said.

The company's goal is to have production autonomous self-driving trucks deployed by 2024 or 2025, the CEO said.

One of Lu's presentations at the big Las Vegas technology show centered on making supply chains more resilient, addressing a big concern of the times.

"I think right now the big bottleneck is capacity," the executive said. He noted that TuSimple's technology enables new freight capacity as the trucking industry endures driver shortages and high driver turnover rates. Autonomous trucks have the ability to free up scarce drivers for first-mile and last-mile trips, Lu said.

TuSimple has been hauling freight for paying logistics customers such as UPS (NYSE: UPS) as well as DHL, part of Deutsche Post. In addition, TuSimple is a strategic partner with Union Pacific Corp. (NYSE: UNP), one of the big four freight railroad systems in the United States. Lu discussed how TuSimple has a place in the trucking components of so-called intermodal freight traffic, where shipping containers and trailers travel by truck, are transferred to rail, and make the last part of their journey by truck again.

TuSimple's headquarters are in the University Towne Center area.

Shares of TuSimple stock have traded between $27.24 and $79.84 since the company's initial public offering on April 15. They closed Jan. 4 at $34.28.
 
TuSimple made its debut on the San Diego Business Journal's List of Largest Public Companies in the No. 7 spot. The list ranks companies by market capitalization as of June 30. At that point TuSimple stock stood at its all-time high. Its June 30 market capitalization of $14.89 billion has since become $7.3 billion.

Also during CES in early January, TuSimple offered details on how its technology uses microchips from Nvidia — specifically on the Nvidia Drive Orin system on a chip.
TuSimple
FOUNDED: 2016
CEO: Cheng Lu
HEADQUARTERS: University Towne Center area
BUSINESS: Developer of a commercial-ready, fully autonomous (SAE Level 4) driving solution for long-haul heavy-duty trucks
REVENUE: $4.2 million in the nine months ended Sept. 30
STOCK: TSP on Nasdaq
EMPLOYEES: 1,500, with 600 in San Diego
WEBSITE: www.tusimple.com
NOTABLE: The company's artificial intelligence technology can see 1,000 meters ahead of the truck
CONTACT: 619-916-3144