TOURISM: HISTORIC TOWN & COUNTRY RESORT GETS $100M MAKEOVER
Whimsical Messages Help Draw Curious to Hotel Row Property
Monday, February 28, 2022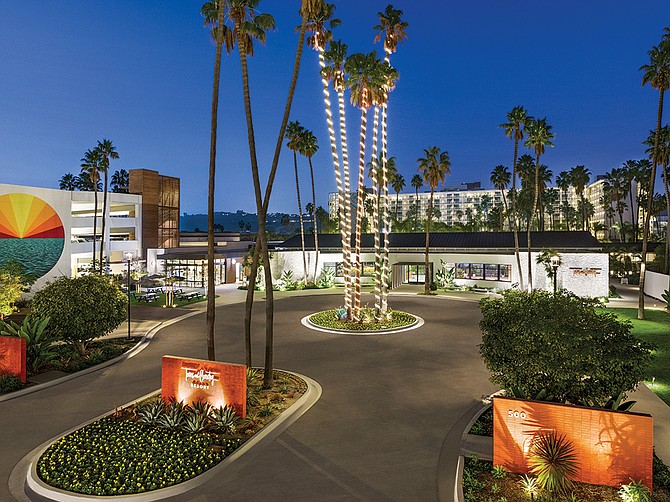 Before it underwent a $100 million renovation, the 
Town & Country
 hotel in Mission Valley was attracting notices that did little to attract guests.

"The hotel was not in the best of shape and social media wasn't exactly kind to us," said April Shute, who has been vice president and managing director of Town & Country since January 2017.

"We thought, well, let's try to change what people were talking about," Shute said. "We decided let's just do stupid signs every week and see what happens."

One of the first postings on the hotel marque read "Welcome archery tournament, free ear piercings."

"People stopped to get their ears pierced," Shute said. The hotel didn't do ear piercing, but the signs did the trick. "People wound up loving it," Shute said.

They loved it so much that the signs became an indelible part of the hotel's identity, so much so that they've been incorporated into the renovation. "It sort of had become synonymous with Town & Country that we have these great signs," Shute said.

The old marque is gone, but a new sign adorns a wall in the new hotel lobby, where eye-catching sayings are posted, and an entire wall is covered with sayings from past postings, and the sign has its own Instagram.

"We have this gorgeous mid-century lobby but then behind the front desk we have the sign, not the original, but one that looks like it," Shute said.
A Landmark Property

With interiors designed by Gensler and Sixteen-fifty Creative Intelligence, room interiors designed by HFS Concepts 4 and landscaping designed by Burton Landscape Architecture Studio, the overall look and feel of the renovated hotel is mid-century modern blended with new 21st century touches to create what the hotel calls "a casual California Aesthetic."

The sense of frivolity that the sign messages engender runs throughout the hotel's new look, as does the mid-century design that harkens back to Town & Country's origins when it was built in 1953 as a 46-room ranch-style motor inn in the middle of farmlands and pasture along what was then Highway 803, now Interstate 8.

Over time, Town & Country grew to 985 rooms on a 46 acre-site with its own convention center, expansive ballrooms and two towers - the 10-story Palm Tower and the nine-story Regency Tower.
Brand New Experience

"We ended up demolishing 70% of the original hotel," Shute said. "Essentially the entire center of the property and the arrival experience is all brand new."

The towers were kept and the renovated hotel has some of the largest ballrooms in the city, including the 40,027 square-foot Golden State Ballroom, and the 24,026 square-foot Town & Country Ballroom.

Shute said that the expansion allows the hotel to host more groups than it has previously.

Among upcoming events is San Diego Women's Week March 11, organized by the North San Diego Business Chamber.

Partly because of its history, Shute said Town & Country has become a special place for her.
 
"This is a landmark in San Diego," said Shute, a native of Tampa who sort of fell into the hospitality industry after studying Russian language and literature at The George Washington University in Washington, D.C.

A job at a Marriott hotel while Shute was in college led to a career path far different from the one she intended, and ultimately, to the Town & Country Hotel.

"You just never know what turns life will take," she said.
 
When interviewing people from San Diego for a job, "they all have stories about relatives who worked here or got married here or whatever," Shute said.
 "We definitely wanted to make sure in the (renovation) design that we paid homage to that legacy."

For example, one wall in the new ARLO restaurant has shelves of memorabilia from the hotel's past, including a trolley timetable from the 1960's, a tribute to Dr. Seuss and a Muhammed Ali doll from when Ali trained at the hotel.

The sense of whimsy is carried over from the signs to other elements in the renovated hotel, including a mural by Nan Coffey overlooking the new 6,720-square-foot Flamingo Lawn that Shute said depicts flamingos balancing cocktails on their heads.

In a mix of whimsy and history, a sculpture in neon lights of a woman swimmer overlooks the new poolside Lapper Kitchen and Bar.
 
"It's just one of those really cool mid-century touches," Shute said.

Among additions included in the renovation was a 10,000-square-foot pool complex that has a zero-entry pool, children's pool and a four-story, 150-foot water slide.

"When we demolished the front of the property, we took over 100 palm trees and relocated them to the pool area," Shute said.

The hotel also added artwork throughout, the most striking of which is a 10-story mural by Andy Davis on the side of Palm Tower and a 40-foot mural called "Beaming" by Mark Warren Jacques on the side of a parking garage.

As with the hotel industry in general, Town & Country struggled during the early part of the COVID-19 pandemic.

"Moving out of January and into February, we are starting to come out of it," Shute said. "I think 2023 will be the year that the industry totally breaks free of it."
Town & Country Resort

FOUNDED: 1953
VICE PRESIDENT: April Shute
HEADQUARTERS:  Mission Valley
BUSINESS: Hotel
NUMBER OF EMPLOYEES: 362
WEBSITE:
www.towncountry.com
CONTACT: 619-291-7131
NOTABLE:  The original Town & Country hotel was called the "Million Dollar Mission Valley Hotel" because of its $800,000 construction cost.