FIRST PRODUCTION TRITON CARRYING IFC-4 PAYLOAD GOES TO U.S. NAVY
Delivery Milestone for Northrop Grumman
Wednesday, February 23, 2022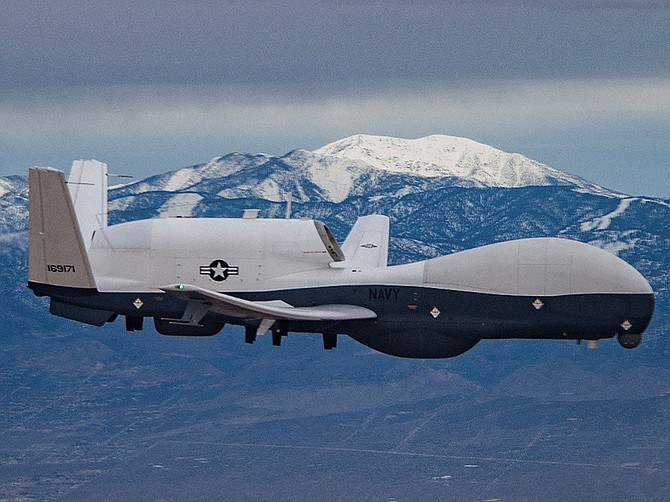 Northrop Grumman Corp. (NYSE: NOC) announced earlier this month that it delivered its first production MQ-4C Triton aircraft equipped with sophisticated "IFC-4" electronics to its U.S. Navy customer. The company bases its Triton program in Rancho Bernardo.

The MQ-4C Triton is an unmanned intelligence gathering aircraft, based on the Global Hawk aircraft that the company built for the U.S. Air Force. The Navy plans to buy 68 Tritons. The Royal Australian Air Force is also a customer.

The aircraft carries highly upgraded multi-intelligence electronics called IFC-4, which is Pentagon shorthand for Integrated Functional Capability 4.

"The Multi-INT capability that the U.S. Navy and Royal Australian Air Force have procured through Northrop Grumman, our Naval Warfare Centers and our GFE partners is like no other — 360 degree AESA maritime radar, full-motion EO/IR video streaming, high-altitude, long-endurance, full-spectrum signals intelligence and the pipes to send multiple data types to ships, aircraft and intelligence community ground stations allow our forces to hold adversaries at risk and protect the peace which is so vital to our national interest," said Capt. Dan Mackin, Persistent Maritime Unmanned Aircraft Systems program manager, in a statement released by Northrop Grumman in July. GFE stands for Government Furnished Equipment.

Northrop Grumman delivered the aircraft with IFC-4 electronics to Naval Air Station Patuxent River, Maryland on Feb. 1.

Northrop Grumman is operating under several contracts to produce Triton aircraft. They include a $333.4 million contract modification — awarded June 25, 2020 — exercising options for three low-rate initial production aircraft in the IFC-4 configuration. The deal also included two main operating bases and one forward operating base. Work under the deal is scheduled to be complete by 2025 and roughly one quarter of the work is being performed in San Diego.
 
On March 26, 2021, the Navy awarded a $98.9 million modification providing for one additional low-rate initial production Triton from Lot 5.
International Customer Buys Kratos Drones

Kratos Defense & Security Solutions Inc. (Nasdaq: KTOS) announced on Feb. 9 that its Kratos Unmanned Systems Division recently received a $20 million contract award from an unnamed international customer for high performance, unmanned aerial target drone system aircraft as well as related services. The procurement includes aerial target drones, spares and consumables, ground control station, ground support equipment, launching systems and payloads. In addition to the hardware to be provided, Kratos will deliver services that include testing, technical training, in-country establishment and technical assistance.

 "We're pleased to be increasing our international footprint for production drone systems with this new international customer and region," said Steve Fendley, president of the Kratos Unmanned Systems Division. "The performance versus cost affordability of Kratos' systems is key in enabling us to continue growing this business line and supporting U.S. allies abroad."
Space Micro to Develop Air-to-Space Laser

Space Micro, powered by Voyager Space, announced on Jan. 27 that it has been selected by the U.S. Air Force AFWERX program for an award to develop an air-to-space laser communications system. Financial terms of the deal were not disclosed.

Space Micro said that under the contract, it will address some of the most challenging air-to-space laser communications problems, which are primarily caused by the regular instability of Earth's atmosphere. Space Micro's laser communications products have been developed for commercial and government customers and are now evolving into a key solution for highly directional, long-distance, high-bandwidth telecommunications for air-to-space connective applications.

In routine air-to-space laser communication, atmospheric turbulence scrambles transmitted information. To help solve this problem, Space Micro partnered with Rhea Space Activity and Johns Hopkins University to develop an adaptive optics solution that uses deformable mirrors to transmit a laser signal through turbulence unhindered. The project, called DEFORMO, seeks to develop an Air-to-Space Laser Communications Pod that could be deployed on a variety of Air Force aircraft.

"This Phase I effort will provide the necessary feedback to develop the scientific and engineering infrastructure needed to provide an optical communication chain between airborne assets and geostationary communications satellites," said Dave Strobel, executive chair of Space Micro.
 "DEFORMO is intended to give our stealth aircraft the ability to securely communicate during sensitive operations without giving away their positions."