SOUTHERN RESEARCH ACQUIRED FOR $80M; HYPERSONIC WORK EYED
Kratos to Expand Alabama Business
Friday, August 5, 2022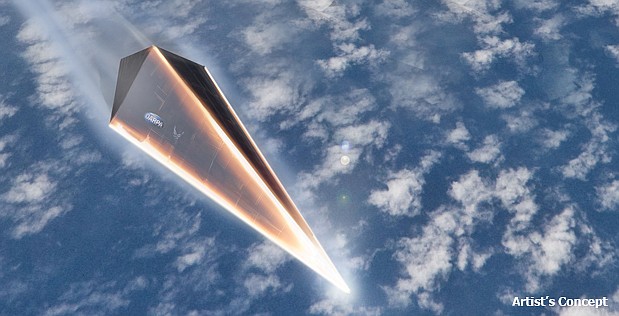 Kratos Defense & Security Solutions Inc.
 (NASDAQ: KTOS) has acquired another company — this one in the aerospace center of Birmingham, Alabama. With the help of local government, the Scripps Ranch business plans to expand in that city, and go after work in hypersonic flight.

In May, Kratos said it acquired the engineering division of Southern Research in an $80 million transaction. It paid $75 million in cash and the remainder in Kratos common stock. The business employs 140 engineers, technicians and program support professionals, most with security clearances.

In July, Kratos chose one of the summer's premier aerospace business events, the 2022 Farnborough International Airshow, to announce plans to add 76 jobs in Birmingham.
The state of Alabama as well as the local government in Birmingham will help Kratos grow the business with training grants and other incentives, Kratos said.

One specialty at Southern Research is advanced materials. Kratos said in its July announcement that its investment in Alabama is part of a wider effort to expand its work in hypersonic air vehicles, missiles and space. The area may be ripe for federal funding.
 Some say the U.S. is behind Russia and China in hypersonic technology.

Approximately one-quarter of the amount Kratos paid for Southern Research covered the business' 54-acre campus. The facilities include 102,000 square feet of laboratory and other specialty buildings. In its July 19 announcement, Kratos said it planned to make $8.6 million in capital investments in Birmingham over the next five years.

The business has been in acquisition mode. In December, Kratos bought Colorado Springs-based Cosmic Advanced Engineered Solutions, a woman-owned small business, for $37.5 million in cash. The business specializes in signals, space and cyber. Also in December, Kratos acquired CTT Inc., a San Jose-based specialist in microwave components and equipment, for approximately $22 million in cash.

In other news, Kratos announced on July 25 that it received a task order from the Air Force Research Laboratory to develop a low cost, limited life engine for expendable aircraft (or in military parlance, attritable aircraft). Kratos Turbine Technologies in Florida will do the work. The initial effort will be worth $6.8 million. The entire contract could be worth as much as $54 million.
Kratos Defense & Security Solutions Inc.

FOUNDED: 1994 as Wireless Facilities Inc.
CEO: Eric DeMarco
HEADQUARTERS: Scripps Ranch
BUSINESS: Defense contractor
REVENUE: $811.5 million in 2021; $747.7 million in 2020
STOCK: KTOS on NASDAQ
EMPLOYEES: 72 in San Diego
WEBSITE: 
www.kratosdefense.com

CONTACT: (858) 812-7300
SOCIAL IMPACT: Three of the eight members of the Kratos Board of Directors are women.
NOTABLE: CEO Eric DeMarco and CFO Deanna Lund previously worked together at defense contractor Titan Corp.