LOCKHEED MARTIN TO SPEND $5.2 MILLION IN THE SAN DIEGO AREA
Funds For Lot 17 F-35s Coming to Region
Thursday, April 21, 2022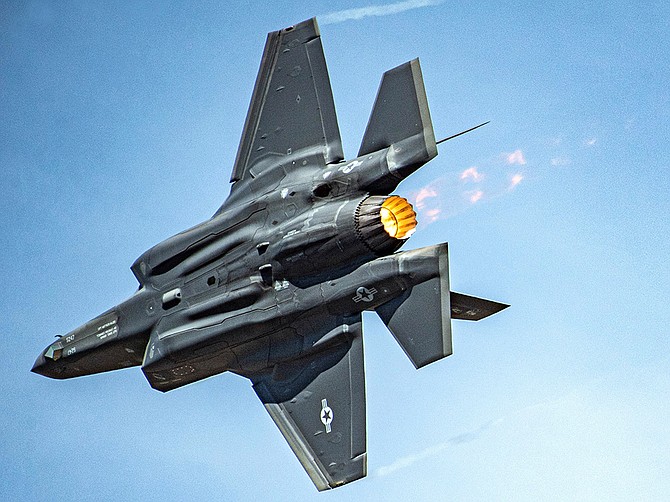 The U.S. Navy awarded Lockheed Martin Corp. a $261.4 million modification to a previously awarded contract for F-35 fighter aircraft. 
This modification increases scope for the procurement of long lead-time materials, parts, components, and efforts for the production of nine Lot 17 F-35C aircraft for the Navy, 13 Lot 17 F-35A aircraft and two Lot 17 F-35B aircraft for non-U.S. Department of Defense participants. Some 2% of the work, valued at approximately $5.2 million, will be performed in San Diego. Specific subcontractors were not named. Lockheed Martin's San Diego subcontractors for the F-35 include Northrop Grumman Corp. (NYSE: NOC) and Cubic Corp. Work is expected to be completed in May 2026. The Naval Air Systems Command of Patuxent River, Maryland, awarded the contract, announced on April 7.

In other news related to the F-35, Canada chose Lockheed Martin as the preferred bidder to supply 88 fighter jets, according to a Reuters report from late March. If the deal goes through, initial deliveries are expected in 2025.
Tapestry to Provide Flight Dispatching

The U.S. Air Force awarded San Diego-based Tapestry Solutions Inc., a Boeing company, a $42 million contract for executive airlift flight dispatch services. This contract provides flight dispatch services comparable to existing commercial airline 24/7/365 worldwide operations. The location of performance is the contractor's facility. The work is expected to be completed by Jan. 31, 2027. This award is a result of a competitive acquisition. The 316th Contracting Squadron, Services Flight, Joint Base Andrews, Maryland, awarded the contract on April 4.

Shares of Boeing trade on the New York Stock Exchange under the symbol BA.
BAE Receives Space Force Contract

BAE Systems announced on April 6 that it will develop the mission data framework for the Space Systems Command's Enterprise Management and Control (EM&C) system.
 
Financial details of the transaction were not disclosed.

The Space Systems Command is part of the U.S. Space Force.

Under the prototype contract, BAE Systems will create an integrated data management environment, connecting interoperable sources to support fusion and discovery of data, minimize disruptions, deliver near real-time status of assets, and provide curated data for mission needs.

During a year-long development period, BAE Systems will perform four demonstrations. The demonstrations will show improved situational awareness for global satellite communications, or SATCOM, and underscore how the framework allows warfighters to rapidly respond to end users in contested, degraded and operationally challenged environments.

"Our team is ready to provide the flexible data architecture and foundation required to build a resilient, responsive, and integrated SATCOM data environment," said Ron Zuccaro, director of Resilient Ground Systems at BAE Systems. "Our cyber-resilient ground systems automate decision-making and integrate intelligence data from disparate sources."
 
BAE Systems' cloud computing suite integrates data sources and applications into a platform in which information flows through data services that act as the working memory of the EM&C system. This core data framework connects previously disparate data sources for mission operators and accelerates the ability for future mission-critical applications to be developed.

The Space Systems Command mission is to provide real-time global access to resilient and sustainable SATCOM capabilities for joint operations warfighters. EM&C enables resilient, uninterrupted satellite communications with the ability to rapidly plan, allocate, monitor, detect, locate, assess, and resolve issues to improve situational awareness and overall mission effectiveness
Ground processing is a critical component of the overall space landscape. Combined with onboard processing capabilities, BAE Systems said, company technology makes missions more effective. The company's products increase the ability for on-orbit, real-time interaction and decision-making.