SPORTS BUSINESS: BALLPARK'S 70 SUITES ARE ALL REMODELED; HOME OPENER SET FOR APRIL 14
Petco Park Offers New Menus as Padres Kick Off '22 Season
Friday, April 15, 2022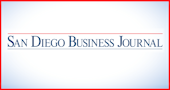 Take me out to the ballgame … buy me hot chicken and an acai bowl?

Of course. With the 2022 baseball season underway, the San Diego Padres are offering some very contemporary food and beverage options at Petco Park.

Petco Park also saw its largest suite remodel since the ballpark opened in 2004. All 70 suites were renovated and feature a remodeled suite entrance for suite lease members, new furniture with unique seating concepts, 65-inch 4K televisions with access for presentations, artwork celebrating current and past Padres greats, new refrigerators and dishware, renovated bathrooms and more.

The Padres' home opener is set for 5:10 p.m. on Thursday, April 14 against the World Series Champion Atlanta Braves. The regular season wraps up Oct. 5.
Delaware North Changes Things Up

Petco Park will be home to several new food and beverage offerings in partnership with foodservice and retail partner Delaware North, as the venue continues to provide local and California-based fare.
 
Sambazon, available in Section 109, will feature a variety of organic, plant-based acai bowls, including Berry Bliss, Amazon Superberry and Peanut Butter Power, along with Acai Margaritas. Jack in the Box, located near Section 323 just around the corner from the Jack in the Box Antenna Ball by the right-field pole, will offer loaded tiny tacos, chicken strips, curly fries and mini churros along with a signature Purple Haze Cocktail. In a nod to San Diego's binational roots, Holy Paleta will bring its signature Mexican style ice pops to the ballpark and come available plain or dressed with a choice of sauces and toppings, available near Section 112.

Also new are San Diego's Finest Hot Chicken available near Section 316 and The Draft by Ballast Point, featuring a signature sandwich called The Hot Hen, created exclusively for Petco Park. The Hot Hen features seasoned crispy chicken topped with Fresno chile slaw, pickles and fuego sauce served on a brioche bun. Cucina Stella, a new concept available in the Mercado, will offer Neapolitan-style pizza and a specialty meatball sandwich with handmade meatballs, topped with marinara sauce and parmesan cheese and served on a rustic Italian roll. Negihama Sushi, the sister restaurant to Uni Sushi in Mission Valley, will offer a variety of fresh-made grab-and-go sushi available in the Mercado. Additionally, The Lexus Club, formerly known as the Compass Premier Club, will feature a collaboration between Petco Park's executive chef and the team from Brandt Beef/Ranch 45 in Del Mar.