HEALTHCARE: CALCULATING HEART ATTACK RISK
Scripps Creates Heart Disease App
Monday, April 11, 2022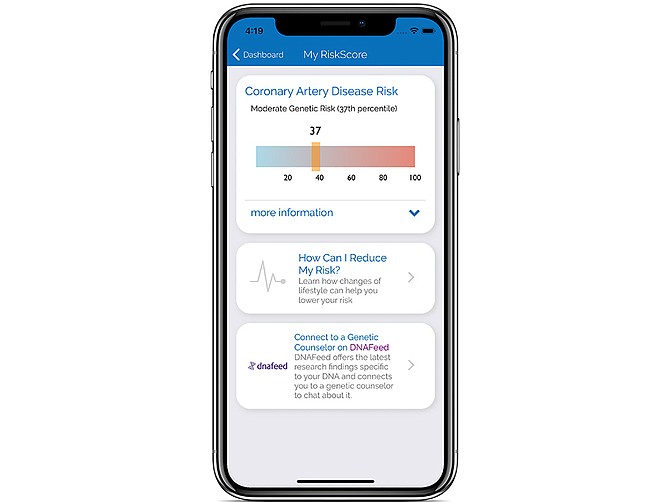 Understanding your genetic risk of coronary artery disease (CAD) artery disease will more likely push you to seek out preventative treatment. That is the conclusion of a study by a 
Scripps Research
 team that developed a smartphone app that can calculate a users' genetic risk for CAD.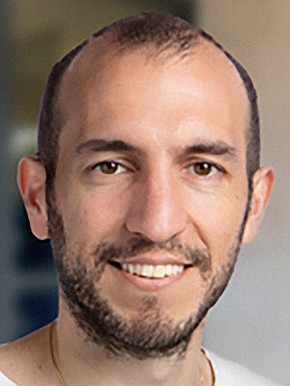 In the study, which appears in the March 2022 issue of Nature Partner Journals Digital Medicine, researchers detailed how the MyGeneRank app inputs participating individuals' genetic information from the 23andMe genetic testing company and outputs a CAD risk score based on the DNA data. Of the 721 participants who provided complete information, those with high-risk scores were much more likely to start using statins or other cholesterol-lowering therapies, compared to those with low-risk scores.
 
"We saw about twice the rate of statin initiation in the high genetic risk group versus the low genetic risk group, which indicates that strategies like this could make a big contribution to public health — heart disease being the largest cause of death globally," said study senior author Ali Torkamani, PhD, professor and director of Genomics and Genome Informatics at the Scripps Research Translational Institute.
Risk Communication
 
Torkamani said the new app was built to communicate a person's comprehensive genetic risk for CAD by combing different genetic markers to get a single score indicative of risk. Studies have shown that people with high genetic risk for CAD can reduce risk of heart attack by going on lipid lowering therapies. However, only 30% of people who by guidelines should be on lipid lowering therapy actually do so.  

"The other 70% are falling short of these guidelines," Torkamani said.
 
According to the U.S. Centers for Disease Control and Prevention, about 18 million American adults have CAD, the most common form of heart disease, which causes hardening and narrowing of arteries that feed the heart. More than 300,000 Americans die of resulting heart attacks every year.
 
The study suggests that knowing even a moderate genetic risk for heart disease can influence better health choices.
 
"Even if someone finds out they have low genetic risk for CAD, knowing their score can help," Torkamani said. "For example, if they also know they have high risk overall, that may suggest other non-genetic factors like lifestyle are contributing to their risk and that they should consider making changes."
 
Overall, study respondents in the high-risk category, compared to the low-risk category, were 1.4 times more likely to report use of a statin lipid-lowering drug after learning their score, and about four times more likely to report use of a non-statin lipid-lowering drug. Respondents in the high-risk group also initiated lipid-lowering therapy much earlier, at age 52 on average, compared to 65 for the low-risk group.
 
"On the whole it looks like a significant effect, especially considering that we were giving respondents only appropriately contextualized information about their gene-based risk scores — we weren't directly telling them to go out and start taking medications," Torkamani said.
Psycho-Social Implications
 
In addition to asking about adoption of lipid lowering therapies, participants in the study were asked about whether knowing their risk caused them any anxiety.
 
"There's this thought out there that knowing genetic risk information is kind of scary and people don't want to get it because it will cause undo anxiety," Torkamani said. "But we see there that people understand the information pretty well."  

Whether or not a participant had a high-risk or low-risk score, both groups respond neutrally when asked if they worry about coronary artery disease. And asked if there are ways to reduce risk, they also universally agreed there is a path to reduce risk.
 
"Most people deal with this information very well because they know it's not fatalistic, it's not deterministic, there's a probability and they can influence that," said Dr. Eric Topol, founder and director of the Scripps Research Translational Institute, who predicts that these types of genetic risk scores will ultimately be used across other genetic risk diseases like diabetes, atrial fibrillation and certain types of cancers, including prostrate, breast and colon.  

"Every one of these has an actionable side of it where if you know you have increased risk, then you can take measure to prevent that risk," he said. "As we go forward, these types of scores are going to be available for most important common diseases."
Commercial Adoption?
 
Topol said he is already using the app for his patients to learn their risk score and that it is "already making a difference."  

However, a quick adoption by other physicians and cardiologists is unlikely until there is more proof of the MyGeneRank app's efficacy.
 
"So we have to find even more compelling data than just how it correlates," he said. "That's the missing piece right now. There isn't any question that there's a very tight relationship with the genomics and the heart risk but proving it in practice with patients and how it changes their outcomes, that's what we have to do next."
 
Torkamani added that a more broad and regular adoption of the app could come from possible direct-to-consumer approaches or digital medicine approaches where patients get the information on their own without clinical involvement.
 
He also sees future adoption in the healthcare system where patients who order an LDL test also order a genetic test and incorporate their risk score that into decision making.
 
"And then the area that we're looking at a little more seriously is in employee health plans," he added. "These kind of wellness plans through employers where they do some biometric testing and get some generic advice as to how to improve their health. The employer is incentivized to keep their employees healthy and it's an avenue where a lot of people get this basic genetic profiling. We think this is an interesting area where you can incorporate genetic risk information."
 
For more information about the MyGeneRank app or to download it and participate, visit 
mygenerank.scripps.edu
.
Scripps Research

Founded: 1924
CEO: Peter Shultz
Business: Medical and scientific research institute
Headquarters: La Jolla
Employees: Over 2,400
Revenue: Over $320 million (2020)
Website:
scripps.edu
Notable: Scripps Research holds over 1,100 U.S. patents.