CARLSBAD COMPANY PLEDGES INVESTMENT IN UNITED KINGDOM
Viasat Sweetens Deal for Inmarsat
Friday, April 8, 2022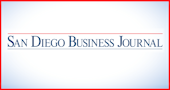 Viasat Inc. (NASDAQ: VSAT) is engaged in some international diplomacy to get its proposed, $7.1 billion acquisition of Inmarsat over the finish line.

Regulators from the United Kingdom, where Inmarsat is based, have yet to approve the deal, first announced in November. The businesses targeted the deal to close in the second half of 2022.

The Carlsbad company said on March 21 that it recently signed an agreement with the British government, pledging to do several things that will benefit that country's economy.

Among other things, Viasat said it would maintain core satellite, network and cybersecurity operational capabilities in the U.K.; leverage the U.K. supply chain, particularly for delivery of national critical infrastructure; and establish the global international business headquarters of the combined company in London.

Viasat also agreed to expand the number of highly skilled jobs in the U.K. in key areas, including the design and development of satellites, ground stations and other advanced technologies; and to increase overall research and development spending in the country by 30%. The latter includes the creation of a U.K. R&D Center of Excellence.

There will also be a U.K. board of directors overseeing Inmarsat. A U.K. company will continue to own Inmarsat's current satellite fleet.

Viasat committed to the provisions of the agreement for three to five years.

Previously, Viasat agreed to invest approximately $393 million (300 million pounds) in the United Kingdom over a 10-15 year period as part of the Inmarsat deal.

Viasat has also been engaged in a lobbying push. CEO Rick Baldridge has traveled to the U.K. to discuss the pending deal with political leaders. And he has spoken with the British media.

Readers of the Daily Mail found this headline in January: "As Viasat closes in on 5.4bn deal for UK's Inmarsat, satellite boss Rick Baldridge faces down critics: We can be trusted with Her Majesty's secrets."

Viasat handles military communications and classified information, in addition to its services for business and consumers. The Daily Mail has run commentary decrying the possible acquisition of a British company by an American one.