SMALL BUSINESSES WILL RECEIVE UP TO $14.3M UNDER DEAL
Epsilon, Walashek to Tend Landing Craft
Friday, April 1, 2022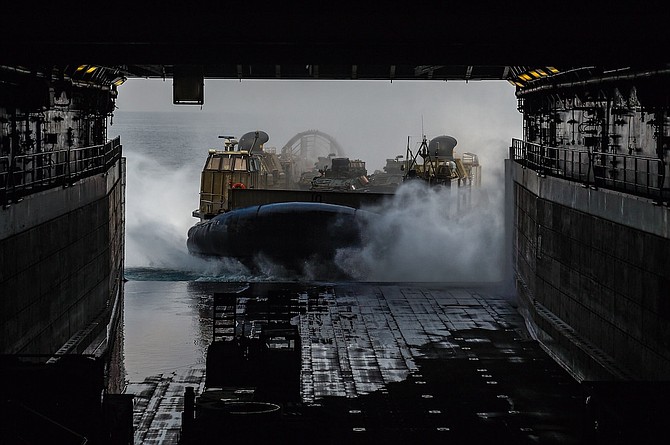 The U.S. Navy awarded two small businesses based in San Diego — Epsilon Systems Solutions as well as Walashek Industrial & Marine Inc. — a contract modification with a combined ceiling of $14.3 million to perform ship repair services to Landing Craft Air Cushion (LCAC) watercraft. LCACs transport Marines, their vehicles and their gear from amphibious ships to shore. They can carry heavy payloads (such as an M-1 tank) up to 75 tons. Textron Inc. (NYSE: TXT) built the craft, which were first deployed in 1982.

The award exercises Option Year Three of the companies' previously awarded, indefinite-delivery/indefinite-quantity, multiple-award contracts. These contracts cover repairs, maintenance, modernization and retirement services for LCACs homeported with Assault Craft Unit 5 at Marine Corps Base Camp Pendleton.
 The work will encompass LCAC Fleet Modernization Program, LCAC Post Service Life Extension Program Extension, LCAC retirements, and LCAC planned or emergent repairs to be completed by April 2023. The Southwest Regional Maintenance Center in San Diego awarded the contract on March 11.
SAIC Gets Public Safety Communications Award

The U.S. Navy awarded Science Applications International Corp. (NYSE: SAIC) of Reston, Virginia a $10.2 million task order for public safety interoperable communications technical assistance and strategic communications and tools under a multiple award contract. The task order provides for research, development, testing, evaluation and delivery of tools, documentation, training, workshops and strategic communications plans to enhance communications interoperability of public safety and first responders.
 The task order includes a one-year base period and a one-year option period.
 If exercised, the option period would bring the cumulative value of this task order to $20.6 million. Ninety-five percent of the work will be performed in San Diego, with much of the work being performed in telework status. The Navy awarded the contract to SAIC after determining that no other bidder could satisfy the government's requirements because the services are unique or highly specialized. The Naval Information Warfare Center Pacific, San Diego awarded the contract on March 22.
Aircraft Life Cycle Deal Goes to GA-ASI

The U.S. Air Force, acting on behalf of the government of the Netherlands, awarded General Atomics Aeronautical Systems Inc. of Poway a $21.6 million contract action for Netherlands MQ-9 Contractor Logistics Support. The MQ-9 is an unmanned aircraft from the Predator family, able to carry weapons and collect intelligence. Work will be performed in Poway as well as Hato, Curacao and Leeuwarden, Netherlands, and is expected to be completed by Feb. 28, 2025. The Air Force Life Cycle Management Center at Wright Patterson Air Force Base, Ohio, awarded the contract on March 1.
Conflict Kinetics to Support Simulators

The U.S. Navy awarded Conflict Kinetics Corp. of Sterling, Virginia a $31.4 million indefinite-delivery/indefinite-quantity contract that will include terms and conditions for the placement of firm-fixed-price task orders for the procurement of Tactical Ocular Reaction Area (TORA) small arms simulator software and upgrade support services to include software and contracted information technology system security; and software modifications/software warranty as needed to maintain all TORA simulators in training support of all Naval Expeditionary Combat Command locations inside and outside the continental United States and Conflicts Kinetics Corp. The contract includes a five-year ordering period with no options. The ordering period is expected to begin April 2022 and be completed by March 2027. Some 15% of the work, valued at up to $4.7 million, will be performed in San Diego. The Navy solicited one source on the contract, determining that no other bidder could satisfy the government's requirements. Naval Supply Systems Command Fleet Logistics Center Norfolk in Virginia awarded the contract on March 2.
Northrop Grumman to Supply Link 16 Electronics

The U.S. Navy awarded Northrop Grumman Corp. (NYSE: NOC) a $17.9 million modification to an order against a previously issued basic ordering agreement covering Link 16 radios, which transmit voice and data as well as position data securely. This modification adds scope to provide for the production, delivery and installation of Link 16 Crypto-Modernization/Hybrid Beyond Line of Sight capabilities on 15 E-2D Advanced Hawkeye aircraft. Some 10% of the work, valued at $1.8 million, will be performed in San Diego, with larger portions in Melbourne, Florida; Norfolk, Virginia; and Rolling Meadows, Illinois. Work is expected to be completed in May 2023. The Naval Air Systems Command at Patuxent River, Maryland, awarded the contract, announced on March 10.