SDBJ INSIDER
They're Back
Tuesday, September 28, 2021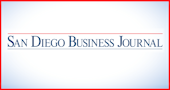 Coming up in a few weeks, San Diego will be the scene of the largest real estate event as the National Association of Realtors will hold its annual conference and expo at the San Diego Convention Center from Friday, Nov. 12 through Monday, Nov. 15. This is a significant prime event and it is great to see events like this coming back as the Convention Center has opened back up.
 In addition to conference events and speakers from around the world, NAR will be holding the industry's largest trade show with more than 250 exhibitors.

Along with numerous sessions discussing what is new and next in the real estate industry, the general session will feature NAR President Charlie Oppler and Drew Brees, former New Orleans Saints quarterback and MVP of Super Bowl XLIV.
 
More information is available at 
https://conference.realtor/
.

+++

Also being held at the San Diego Convention Center in October is the Medical Practice Excellence Leaders Conference from Oct. 24-27.

Formerly known as the MGMA Annual Conference, organizers have stated that the MPE Leaders Conference will draw the most influential healthcare and medical practice leaders from across the nation. Safety is of the utmost importance and the organizers are emphasizing that all attendees must be vaccinated. More information on this event may be found at: mgma.com/events/medical-practice-excellence-leaders-conference .
 
Again, it is great to see large conferences and events like these coming back to the convention center.

+++

In August, California State University San Marcos received a $6 million grant from The Office of Naval Research in the Department of Defense  to help student veterans pursue careers in sustainable energy. The program called Veterans to Energy Careers (VTEC) was started in 2018 when it received an original federal grant of $3 million. The program helps veterans transition into sustainable careers in the fields of science, technology, engineering and math (STEM). So far the program has placed 146 interns, according to CSUSM.