Cue Health Enters the Public Market
Friday, September 24, 2021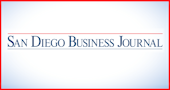 Local diagnostics company, Cue Health, officially began trading on the Nasdaq Global Select Market under the ticker symbol "HLTH" with a valuation of about $2.3 billion on Sept. 24.  
The company listed 12.5 million of its common stock at a price of $16 per share, for gross proceeds of $200 million before deducting underwriting discounts and commissions and other offering expenses payable by Cue Health.  
Founded in 2010, Cue Health's recent growth has been fueled by its offering of a COVID-19 molecular diagnostic test, the Cue COVID-19 Test, that delivers lab-accurate results in approximately 20 minutes. 
Clint Sever, co-founder and chief product officer of Cue Health shared with the Business Journal that today's IPO underscores the determination and grit of the company's team to deliver solutions in the face of the COVID-19 pandemic. 
"Today for us is a moment to celebrate and thank the incredible team that we have at Cue," Sever said. "We have over 1,200 team members who really rose to the challenges that last year presented...and [are] really helping people in a time of crisis. And all of that work and effort positioned us very well for today's IPO."
The company filed its initial public offering on Sept. 1. Underwriters for Cue's IPO include Goldman Sachs & Co. LLC, Morgan Stanley & Co. LLC, and Cowen and Company, LLC. 
Investors responded positively to Cue Health's debut and at market close on Sept. 24, the company's stock was trading at $20 per share.