SDBJ INSIDER
Mentoring Future Leaders
Tuesday, September 21, 2021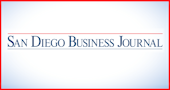 The 
North San Diego Business Chamber
 has a new mentoring program that pairs students with "Emerging Leaders" who can offer them career advice, networking skills or a possible career path to follow.
 
The regional chamber states that according to Millennial Branding, 57 percent of students wish their schools offered more mentoring and networking opportunities. The chamber is working to fill some of that need by offering this unique program.
 
The program, Emerging Leaders Professional Mentor Program, for college juniors and seniors is searching for motivated students who are looking for a competitive-edge post graduation. In addition to having a mentor, students will attend a free two-hour leadership workshop in October.
 
The program will begin on Oct. 14 and run through Dec. 18. They will be accepting 12 students into the inaugural class of 2021. All interested students must fill out an application by 5 p.m. on Sept. 30. Additional details and an application may be found at 
https://forms.office.com/r/pwFhzsKZbf
. Selected students will be notified by Oct. 10, according to the chamber.

+++

A new SD 500 procedure has been implemented this year by the Editorial Executive Team at the San Diego Business Journal. For the 2021 SD 500, we are seeking nominations on our website: 
https://www.sdbj.com/news/2021/aug/27/sdbj-seeks-nominations-sd500-list/
.  

These can include former honorees and new ones. The SD 500 is made up of the most influential leaders in the San Diego region and after such a unique year, we want to make sure we have the most up to date information on any potential honoree before we make our final selections. We are accepting nominations of C-Suite executives, and other key regional organization leaders who have demonstrated strong leadership skills, re-invented their companies during these unprecedented times, embrace diversity, inclusion and equity and are significantly involved in the community.

All nominations will be reviewed by the SDBJ Editorial Executive Team who make the final decision on this year's list. Submissions need to be received by 5 p.m. on Monday, Sept. 27 and the honorees will be published in the Nov. 29 issue.