SDBJ'S BEST PLACES TO WORK 2021 SMALL BUSINESS WINNERS
Cultura Leads by Example
Friday, September 3, 2021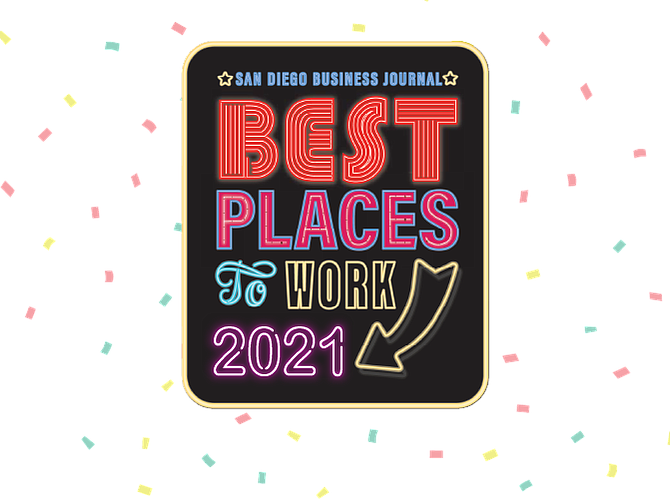 1. CULTURA
Cultura, the San Diego-based company that designs, furnishes and creates work spaces, practices what it preaches.
The firm not only helps its clients' create and execute positive work cultures by offering furniture solutions tailored to them, it's also made it a point to do the same within its own four walls. For this reason, Cultura, with 31 employees, has placed first in the "Small Employer Category" in this year's San Diego Business Journal's "Best Places to Work" awards.
"Cultura is an amazing place to be and has the best team in the whole wide world - certainly in San Diego," said Ann Benge, CEO of Cultura. "I also love where I work because we get to build and create places where others love where they work.
"I want to take a huge minute to say thank you to the San Diego Business Journal for acknowledging companies in San Diego are important," she continued, "not just because they are the biggest or the fastest or the most profitable, but also because culture matters, people matter, impacting and having impact in your life matters. And that is why I like to work at Cultura."
To Benge's point, company culture is critical for a business' success; it can improve performance by motivating employees, thus benefiting a corporation and its growth.
According to Forbes, culture is a company's single, most powerful advantage.
"Today's market is hyper-competitive and employees expect a lot more from the companies they work for," the April 2021-published article reads. "Employee expectations are closely tied to their values. When employers deliver on these expectations, they see more loyal and productive employees, which in turn improves business outcomes and propels company growth."
With a reported revenue of $857.8M and now this well-deserved nod from SDBJ, it appears Cultura has the right idea.
As one employee put it, "I love where I work because of the people that make up Cultura. We are a family unit and it makes it way more fun to come into work and actually work with your friends. Another reason why I love where I work is because of the clients that we get to work with. We do work with a lot of clients that tend to make a difference in the world and it's really rewarding to work with them, see how their offices will turn out and what they do to help make the world a better place."
2. ASCENT FUNDING
Ascent Funding is an award-winning lender that sees their clients as more than just a credit score or number. The local firm's mission is to provide access to education for millions of underserved students every year.
"Ascent is recognized as the leading outcomes-based student lender in the country," said Ken Ruggiero, chairman and CEO of Ascent Funding. "We've achieved this status by attracting amazing employees who want to join us on our mission to revolutionize the way college students and adult learners access, pay and succeed through higher education, so they can transform or accelerate their careers."
During the pandemic, Ascent has strived to make the best of a difficult situation with input from employees. The company helped employees equip their home offices and offered a stipend for gym equipment so employees could maintain their wellness.
The firm also created a community fund for employees who may be struggling with daycare, tutors, eldercare or other financial stresses. For employees who didn't have a need for the money, over 50% donated their stipend back into the fund to help others.
Additionally, the company offers employees a variety of benefits including a vacation incentive plan where they essentially pay their people to take time off. After three years, employees are eligible for a $2,000 vacation incentive bonus as well as a $1,000 sabbatical day off.
"From our virtual book clubs, to our Monday yoga meditation to our Friday office hours, where employees host a teaching session on topics important to our business, our employees continue to make Ascent a great place to work," Ruggiero said.
Ascent Funding currently has 49 employees companywide and Ruggiero also said that the firm is actively hiring.
3. CADENCE
Cadence is a global travel agency that puts taking care of people from their employees, clients and partners at the center of everything they do. The La Jolla company manages business travel, leisure travel experiences and works with a network of independent meeting and event affiliates.
"Now in our 26th year in business, we help our clients by managing business travel, we plan and operate meetings and incentive travel programs," said John Knob, director, brand and communications at Cadence. "We create bespoke, curated leisure travel experiences and as a world-renowned host agency we power a network of independent travel advisors and independent meeting and event affiliates."
The company prides itself on building long-lasting relationships with clients so they have a deeper understanding of their business from culture to objectives. Founded in 1995 by the company's CEO Wendy Burk, the firm has grown to a total of 33 employees.
"So, what makes Cadence one of the best places to work? We feel it's our duty to make our employees our first priority always and to make Cadence, not just a place to work, but a place that they love to come to every single day," Knob said. "We care a lot about our people really enjoying their workday and feeling inspired, not exhausted when they leave at the end of each workday."
In addition to investing in their employees, the company also actively supports local charities. According to the company's website, it donates $100 on behalf of every employee's charity of choice.
"We invest greatly in every employee, constantly looking for ways to support them and nourish them and give them opportunities for growth," Knob said. "We create a safe environment where people can move around freely and grow. At Cadence, every single person is treated with equal respect and every role is viewed with equal importance. There is no hierarchy here and that equality makes everyone feel like this is not just their job but their company."
Natallie Rocha contributed to this story.