CONSUMER-FACING TECHNOLOGIES AND APPS ARE DIGITAL TOOLS FOR LOCAL PROVIDERS
Healthcare Technologies Adapt to Patient Needs
Tuesday, October 19, 2021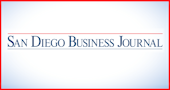 Healthcare organizations have transformed their offerings to meet patients where they are at. San Diego healthcare providers are using digital platforms and consumer-facing apps to streamline care options for their patients with everything from scheduling appointments to telehealth visits.
At this point, it's clear that the integration of digital care options are here to stay. Now, healthcare organizations are finding ways to build tools and platforms that help their patients get accessible care and actionable solutions in a tailored manner beyond the pandemic.

The San Diego Business Journal connected with the leaders at local healthcare organizations who are embracing the digital transformation of care.
COVID Catalyzed Transformation

As the COVID-19 pandemic changed many aspects of life, it challenged our healthcare systems to keep people safe in and outside medical centers. That meant finding ways to connect with patients in a way that kept both their staff and the community safe.
Stacey Hrountas, CEO of Sharp Rees-Stealy Medical Centers shared that healthcare providers who were at high risk for contracting COVID-19 were able to triage patients while remaining safe.

"Patients have routinely expressed how much they like the convenience of virtual urgent care," Hrountas said. "To put it in perspective, before COVID, approximately 1 to 2 percent of all Sharp Rees-Stealy visits were virtual; by phone or video. When the crisis hit that number increased exponentially and by the beginning of April 2020, 70% of all visits were virtual. Today, between 14 to 20% are virtual. Virtual urgent care proved so successful during the heat of the pandemic that it is now part of our standard care offerings and we are so pleased we can offer patients a variety of way to receive our award-winning care."

Logistically, medical centers have been stretched thin during the pandemic, and leaning on technology that helped maximize their resources while meeting the increased need for care was also essential to overcoming these challenges.

"The immediate challenge presented by COVID was that our contracted nurse triage support system was inundated by calls from all across California – it was taking them 10 hours to return calls," Hrountas said. "Because we started training our doctors and advanced practice providers in 2014 to deliver quality health care virtually, we were able to quickly implement an on-demand urgent care program. Virtual urgent care was an immediate win – with our doctors and our patients."

Shane Thielman, corporate senior vice president and chief information officer at Scripps Health said that they have seen a huge increase in engagement with their MyScripps platform, a patient portal powered by electronic health record vendor, Epic.

"The COVID pandemic played a major role in the increased use of the patient portal and became a vehicle to standardize telemedicine as a standard of care delivery," Thielman said. "21% of all eligible ambulatory care visits were delivered via telemedicine this past year."
Consumer Driven Change

Digital healthcare proved to be not only an essential tool to keep people safe during a health crisis, but it has also been adopted by patients as an integral tool for accessible healthcare.

Consumers are using digital health tools now more than ever and feel comfortable making this a standard element of their care. On average, 80% of consumers are likely to have another virtual visit, even post COVID-19, as most consumers were satisfied with their first experience with first visits, according to the Deloitte 2020 Survey of U.S. Health Care Consumers.
"The digital and physical worlds are increasingly more inseparable for our patients," said Chris Van Gorder, president and CEO of Scripps Health. "The volume of online interactions has continued to grow year-over-year and much of this is driven by consumer expectations. Patients expect a frictionless and connected experience whether online or in-person, and digital health has enabled new value for consumers towards improved access, convenience, experience, engagement and affordability."

In addition to the day-to-day doctor's appointments patients need, healthcare organizations like Palomar Health have also embraced technology as a way for people to feel more connected to their loved ones during a hospital stay.

"Technology will never replace our need or desire for human interaction, but it can facilitate it," said Palomar Health President and CEO Diane Hansen. "In the early stages of the pandemic, no visitors were allowed inside the hospital so we instituted an iPad lending program to connect patients with their loved ones. It was so successful we have continued it even though visitors are now allowed so people can visit their loved ones across the globe."
Demand for Virtual Care is Up

At the onset of the pandemic in San Diego County, Kaiser Permanente quickly expanded its virtual care program by more than 700 percent. In comparison, before the pandemic, Kaiser conducted about 22 percent of primary care visits on its virtual platform and today nearly 40 percent of primary care visits remain on the virtual platform.
"When medically appropriate, accessing healthcare on a virtual platform has proven to be a highly effective and convenient option for our membership, particularly in primary care and behavioral health settings," said Dave Horton, chief administrative officer at Kaiser Permanente. "For example, at the height of the pandemic, more than 95 percent of primary care and 99 percent of mental health visits were conducted on a virtual platform. Today, virtual health appointments continue to be in high demand with nearly 40 percent of primary care and more than 80 percent of mental health visits conducted on our virtual platform."

Given the increased engagement with their digital platform, this year Kaiser Permanente launched an app that offers patients a one-stop shop for their care options. While there has been an overall increase of patients across all age groups using digital tools, Kaiser Permanente's members ages 26-44 utilize the most, and members ages 13-17 are the lowest utilizers.

At Scripps Health, Thielman shared that the three largest cohorts of users on its digital platform are ages 36-54 followed by 55-72 and then 18-35. He added that females in all age cohorts outnumber men in terms of enrollment in the patient portal.

"Increasingly more patients are accessing the portal via their mobile device with almost 50% of logins completed from a mobile device," he said.
Offering Specialized Care

With patient engagement up, healthcare providers are expanding the possibilities of care by offering specialized services including mental health care, diagnostics and maternity care to name a few.
"During the COVID-19 pandemic Tri-City Medical Center significantly increased access to care through multiple telehealth digital platforms in a variety of service areas," said Steve Dietlin, president and chief executive officer of Tri-City Medical Center in Oceanside. "I'm especially proud of the robust telehealth services we offer through our Outpatient Behavioral Health Clinic at a time when so many in our community continue to experience mental health challenges."

According to the Deloitte 2020 survey of health care consumers, about a third to half of consumers are comfortable using at-home diagnostics for various reasons.

For Kaiser Permanente, the beginning of their digital tools began with its pilot Tele-Derm program that launched in San Diego back in 2010. Since then, they've built on that foundation and have offered broad-based virtual health visits in all specialties since 2014.

Through the Tele-Derm platform, primary care physicians could securely share digital images with Kaiser's dermatology team of any suspicious skin lesions or conditions identified on their patients during a regular office visit. Dermatologists could then review these images almost immediately and determine if the patient should seek a dermatology visit.

The running theme in the future of healthcare is personalized and accessible health tools. Advancements in point-of-care technology has also made it easier than ever for healthcare providers to offer tools that connect patients with their diagnostic results.

"Most recently, Scripps has begun to offer home-based biometric monitoring for patients with hypertension and maternal patients," Thielman said. "This has helped expand the boundaries of the delivery system beyond the traditional sites of care.  The different digital modalities and services have built upon each other and will continue to in the future as patients seek a connected and continuous relationship with their provider and an increasingly more personalized experience."