Sempra Gets Good Marks for Transparency
Monday, October 18, 2021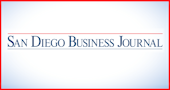 San Diego-based Sempra Energy (NYSE: SRE) has been lauded for its transparency, being named most improved overall in the 2021 U.S. Transparency Awards sponsored by Labrador.

Labrador, based in Atlanta, is a global communications firm specializing in regulated disclosure.

According to contest organizers, Sempra demonstrated a commitment to enhancing its corporate disclosure documents year-over-year. Awards rankings were determined by reviewing a company's annual proxy statement, Form 10-K, investor relations website and code of conduct. This review covered 148 criteria that reflect what Labrador calls the four pillars of transparency: accessibility, precision, comparability and availability.

The rankings compare the efficacy of corporate disclosure documents among the top S&P 250 companies traded on the New York Stock Exchange or Nasdaq. All S&P 250 companies were ranked, with no need to apply and no fee. The list of companies was created on Jan. 2 and the data collected between May 10 and July 31.

Sempra is based in East Village and is the parent to San Diego Gas & Electric Co. as well as Southern California Gas. The business also has energy infrastructure in the United States and Mexico, and is working to become a major exporter of liquefied natural gas, or LNG.