SDBJ INSIDER
Cyber Innovation
Tuesday, October 12, 2021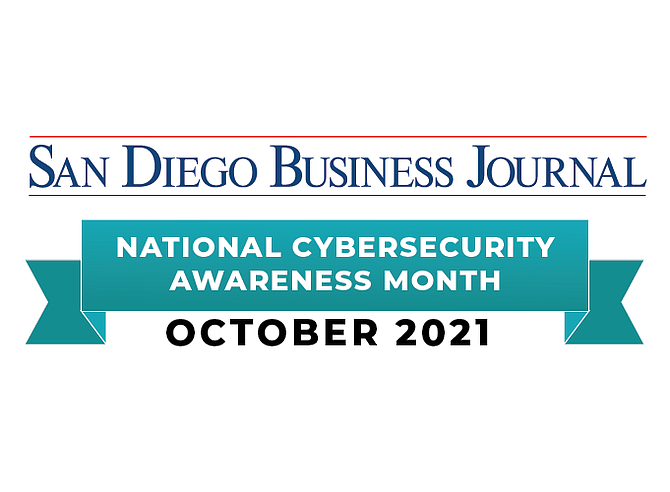 October being Cybersecurity Awareness Month, it makes sense that the city of San Diego announced last week that it has received a total of $928,000 in federal grant funding to develop a new regional cyber innovation center.

Cybersecurity concerns are on the rise and the city sees this new center as providing the greater San Diego region with coordinated cybersecurity awareness through collaborative access to tools, intelligence and a trained and capable workforce.
 
Their goal is to "enhance cybersecurity resilience through timely sharing of information and analysis, and specialized training with safe environments to simulate and defend against cyberattacks."

Mayor Todd Gloria is behind the effort stating, "The new Cyber Innovation Center will serve as a regional resource where information and prevention strategies can be securely shared between agencies, especially with smaller agencies that don't have in-house expertise."

The city received two grants from the U.S. Department of Homeland Security totaling the $928.000. The city has formed a working group to develop the innovation center with the goal of opening it in early 2022. The group consists of cybersecurity experts, academics, local CEOs and public officials from across the San Diego region.
 
"We must remain vigilant in defending against these ever-evolving threats and, with this new collaboration, we'll be stronger as a region by working together against a common enemy," said Darren Bennet, San Diego's chief information security officer.
 
+++

PRIDE Industries announced last week the official launch of its one-of-a-kind employment helpline for people with disabilities and other barriers to employment. They work with veterans, former foster youth, and trafficking survivors. The free California-based hotline connects interested individuals to support resources, job training, and employment opportunities.
 
"We've found that people with disabilities and their families struggle to find resources and employment opportunities. That was the inspiration for launching the helpline," said Jeff Dern, president and CEO of PRIDE Industries.
 
PRIDE Industries' San Diego customers include the San Diego Naval Base, Pfizer, Qualcomm, SeaWorld, the San Diego Zoo, UCSD, San Diego County and Viejas Casino.
 
Founded in 1966, PRIDE Industries is the nation's leading employer of people with disabilities. Those interested can contact the helpline at (844) I-AM-ABLE or by visiting 
IAmAbleHelpline.com
.

+++

The San Diego Business Journal is currently accepting nominations for the 2021 Business Women of the Year Awards. Each year, the Business Journal  recognizes dynamic women business leaders who have contributed significantly to San Diego's workplaces and communities. This year we are excited to announce that it will be an in-person event held at Hilton San Diego Bayfront at 11 a.m. on Nov. 18.
 
The nomination deadline is 5 p.m. Oct. 22. Nominations may be made at 
sdbj.com/bizevents
. Finalists will be featured in a special section on Nov. 8 with a winners and finalists section being published on Dec. 6.