LEADERSHIP: DR. ADELA DE LA TORRE, LIDIA S. MARTINEZ AWARDED BY LATINO LEADERS NETWORK
Local Latinas Nationally Honored
Monday, October 11, 2021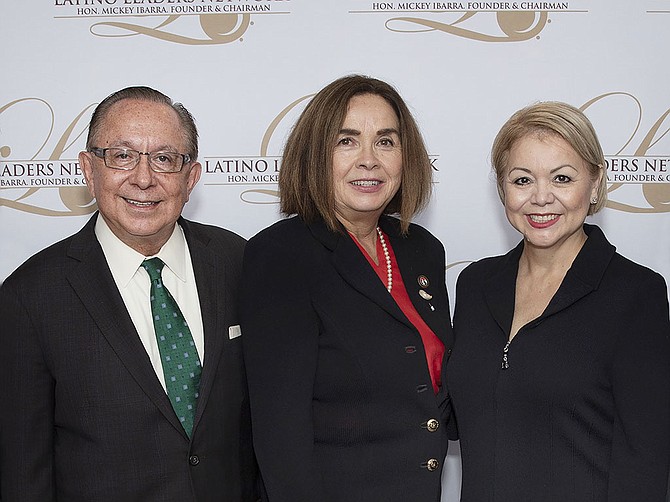 Last month, two San Diego-based Latinas were honored for their leadership and for serving the Latino community.
On Sept. 17, during its 64th Latino Leaders Luncheon Series, the
Latino Leaders Network
presented Dr. Adela de la Torre, president of
San Diego State University
, its Eagle Leadership Award. That honor goes to a national leader who has made a notable impact on the lives of Latinos in the U.S.
Also at the Luncheon, the Washington, D.C. headquartered nonprofit awarded Lidia S. Martinez, former manager of community outreach for
Southwest Airlines
, its inaugural Champion Award. The Champion Award is presented to a retired sponsor to recognize their support over a significant time period.
Established in 2004, Latino Leaders Network is dedicated to "Bringing Leaders Together", as per the organization. For the first time in the Luncheon's history, it was held in sunny San Diego.
What better time than now, during Hispanic Heritage Month, to pay tribute to two of S.D's Latina leaders that have not only achieved success in their respective careers, but are also paving the way for others.
"Uplift Others as We Climb Ourselves." - Dr. Adela de la Torre
Dr. Adela de la Torre, the first woman and first Latina to serve as a permanently appointed president of San Diego State University, grew up surrounded by women. Born and raised in the San Francisco Bay Area, de la Torre is the granddaughter of Mexican immigrants and daughter to a single mother who taught public school for 40 years. The accomplished economist, public health researcher and higher education leader for more than three decades joined SDSU in 2018.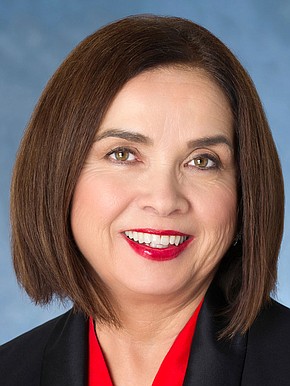 "I was raised in large part by my abuelita (grandmother) and shared a home with my older sister, Judy, and my mother, Herminia," she recalls. "We had very little financially, but I never felt truly deprived… All the women in my life taught me that a lack of material wealth did not define your life experience or your aspirations."
From a young age, de la Torre has been passionate about the transformative power of education. She earned a bachelor's degree in political economy of natural resources from the University of California, Berkeley. She also received her master's degree and Ph.D. in agricultural and resource economics from UC Berkeley.
Before joining San Diego State, de la Torre executed a distinguished career at California State University, Long Beach, the University of Arizona and the University of California, Davis. During that time, she advanced the values of inclusion, equity and achievement for both students and faculty. At San Diego State, she is helping bridge the region's diverse communities, among other notable accomplishments.
She credits her mother's own journey as an educator with igniting this purpose of community and inclusion in her.
"I remember my mother's story of her first job as a teacher in the Central Valley," shared de la Torre. "She was a young Mexican American teacher who spoke Spanish, and so was placed in a classroom with mostly Mexican American children. She was determined to do the best job possible and help her students succeed. Her principal at the time took her aside and asked her why she was working so hard with those students. She replied, 'What would have happened to me if a teacher hadn't believed in me?' The principal responded that she was different - she was the exception. And my mom responded with grace, but firmness: 'they are not different. They are me.'
"This is the spirit underlying diversity and inclusion work for me," she continued. "If we are not constantly striving to do better, to serve better and to uplift others as we climb ourselves, then it is easy to see the failures of others as evidence of their deficits, rather than a deficit in the educational model."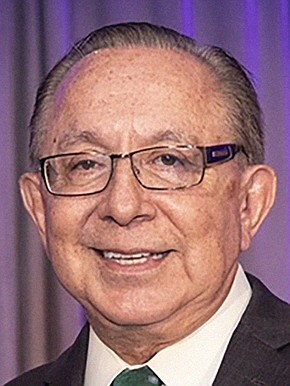 For this and more, de la Torre was presented the Eagle Leadership Award at the Latino Leaders Luncheon last month, said Mickey Ibarra, president and chairman for the Latino Leaders Network and president of Ibarra Strategy Group of Washington, D.C.
"De la Torre serving as the first Latina president in the history of SDSU is a major accomplishment, with national, state and community significance," he said. "She's impacting 35,000 students' lives right in San Diego - that is a terrific responsibility and a significant accomplishment. She's been in education her whole career in a number of leadership capacities, so we wanted to honor her leadership in education as a whole, which is so important to the Latino community."
At SDSU, de la Torre has focused on expanding the campus, growing the university's research enterprise, expanding SDSU and SDSU Imperial Valley degree access and launching the university's new five-year strategic plan. So far, her tenure has marked improved graduation rates to nearly 79% for the most recent student cohort. The university has also seen significant growth in philanthropy and research grants, with gift commitments totaling more than $127.2 million in the 2019-20 fiscal year (up nearly 10% from the previous year).
That same year, SDSU researchers received $144.4 million in external grant funding, one of the highest totals in the history of the university.
"I Have Led With Empathy." - Lidia S. Martinez

Born in Ciudad Juarez, Mexico, and raised in El Paso, Texas, Lidia S. Martinez comes from humble beginnings. One of 11 siblings, she was brought up by her mother, who traveled across the border daily to work as a housekeeper at a general hospital in El Paso. At the age of 12, Martinez immigrated to the U.S.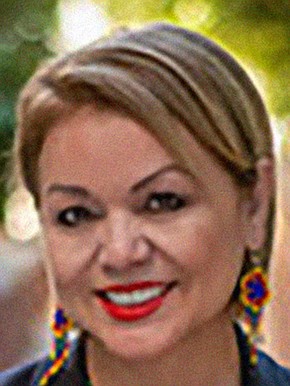 In 1989, Martinez received her Business Administration degree with a focus in Marketing from the University of Texas in Arlington. She began her career at Southwest Airlines in 1990, as the receptionist for the VP of Marketing. In 2007, she began her "dream job" as manager of community outreach, where she's had the most impact.
In that role, Martinez crafted strategic plans around regional relationship development. She established and maintained a portfolio of highly-respected partnerships with civic, business, philanthropic and academic organizations to achieve mutual objectives.
Just last year, Martinez retired after 13 years in that post. For her hard work, achievements and dedication to her community, Martinez won the inaugural Latino Leaders Network Champion Award last month.
"Our inaugural Champion award was developed last year to recognize a leader from a sponsoring organization that has retired and was principally responsible for building the company relationship with Latino Leaders Network," said Ibarra. "Since 2012, Lidia developed the relationship between Southwest Airlines and Latino Leaders Network, to which Southwest is now the official airline of the organization. Now retired, we presented her with the inaugural Champion Award to thank her for the partnership she helped build."
Today, Martinez credits her mom for instilling compassion and a sense of community in her despite the odds being against her.
"My mom was 51 years old (when my dad died) and never remarried - she dedicated her life to us," said Martinez, who is a mother of two herself. "My entire professional life, I have led with empathy, because I know what it means to be poor and to have basic needs. And I know what a difference community organizations and kind people make in the lives of those in need."
Martinez continues to mentor emerging leaders across the country, especially women in the nonprofit sector. She is on the SDSU President's Latino Advisory Council and the San Diego Center for Children CEO Advisory Council, among others. She co-chairs MANA de San Diego's Leadership Advisory Council, serves as a Diversity, Equity & Inclusion Advisor for CLASSY, is a special advisor to the CEO of Promises2Kids and an executive advisor to MACC.
Most recently, Martinez was invited to chair the San Diego Unified School District's Schools Naming Committee.