CONSTRUCTION: 20-STORY APARTMENT BUILDING TO COMPLEMENT CATHEDRAL
$100.2M Tower Being Built With St. Paul's
Tuesday, October 5, 2021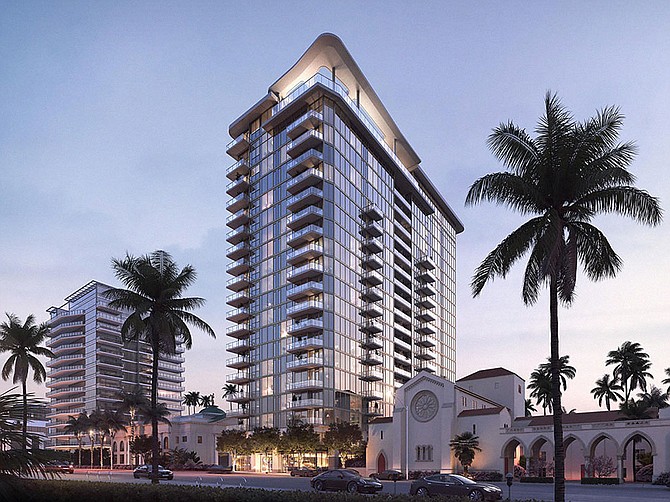 A $100.2 million Bankers Hill apartment tower that is being built by a private developer in conjunction with St. Paul's Episcopal Cathedral is on target for completion in April 2022.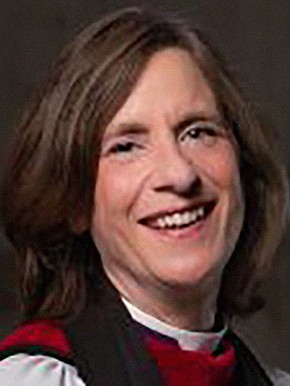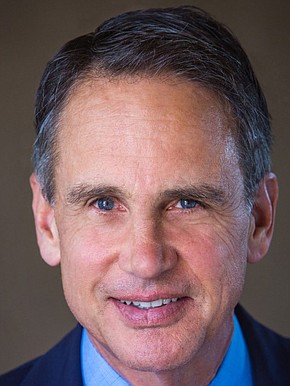 "This is the next step in the future of St. Paul's Cathedral as a cathedral for the city," said the Very Rev. Penny Bridges, dean of St. Paul's Cathedral.
Known simply by its address – 525 Olive St. – the 20-story tower under construction by
Greystar
will be the tallest building in the neighborhood.
"The view from the building looking to Balboa Park as well as looking to the bay is very dramatic," said Jerry Brand, executive director of Greystar. "You can look and see the zoo and if you're listening at the right time, you can hear the roar of the lions or whatever and it's pretty cool."
The project passed a key milestone in August with topping off of its steel frame.
"The goal is to create something special and unique and this is one of the most special and unique locations we had a chance to work on in our career. We're very mindful of doing it the right way," Brand said. "All elements of the building are designed to complement the church itself, which is a beautiful building, and the park and the surrounding neighborhood."
Urban Living

The apartment tower is adjacent to St. Paul's Episcopal Cathedral across 6th Avenue from Balboa Park.
"It looks like it's going to be a beautiful building. It's obviously very prominent. You can see it from all over the city," Bridges said "I think it's going to be a positive addition to the architecture here."
The architect on 525 Olive was Joseph Wong Design Associates (JDA) and Jules Wilson Design Studio did the interior design.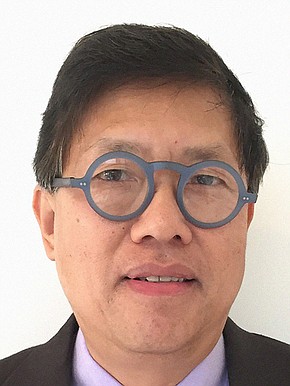 "The building is very contemporary. It's also urban living," said Joseph Wong, founder and president of Joseph Wong Design Associates.
"We have basically floor-to-ceiling glass," Wong said. "You come into the apartments, you have this really great transparency. Each unit will have a balcony, a really nice outdoor space."
The project also will have a community park of about 15,000 square feet that will be open to the public, Wong said.
Amenities will include a 2,700 square-foot gym and lounge, a rooftop clubroom and kitchen, a dog run, a pet spa with grooming stations, 25 electric vehicle charging stations in the parking garage, and concierge service by Hello Alfred.
"A unique aspect is we have a pool at the very top at the southwest corner. As you drive up from 5th Avenue, especially at night, you can see it," Wong said. "It's very impressive."
Enhanced Services

St. Paul's will have 10,000 square feet of space on the first floor of the tower and 8,500 square feet on the second floor along with use of the 148,000 square-foot underground parking garage.
"Some of it will be office and meeting space for church groups and staff and some of it will be community meeting space," Bridges said. "It's going to enhance our ability to serve the community with the large gathering space and also bring some new neighbors right into the community. We'll have the opportunity to communicate with the people right across the courtyard."
Two buildings were razed to make room for the new apartment tower, a 16-unit apartment building and a small building that St. Paul's used for administrative offices and meetings.
"The fabric of the buildings was aging and it was not in great shape," Bridges said.
Greystar acquired the property from St. Paul's for an undisclosed price.
The tower will have 204 apartments, 18 of which will be designated as affordable for very low income individuals and families.
Very low income in San Diego according to federal guidelines is $42,450 to $50,940 for one person and $60,600 to $72,720 for a family of four.
Bridges said apartments set aside as affordable will be a mix and not just the smallest.
The project will have 30 studio apartments ranging from 533 square feet to 566 square feet, 93 one-bedroom apartments of 736 square feet to 905 square feet, 69 two-bedroom apartments of 1,138 square feet to 1,507 square feet, and 12 three-bedroom apartments of 1,625 square feet.
Monthly rents on the market rate apartments have yet to be set, but Brand said they would likely range from about $2,800 to about $7,800.
"Being close and involved with the church has been a unique and wonderful experience," Brand said.
St. Paul's celebrated its 150th anniversary in 2020.
"They are a foundation in the community itself with the history of the church and the services they offer," Brand said.
Greystar
Founded: 1993
CEO/founder: Bob Faith
Headquarters: Charleston, SC
Business: Real estate investment, development and management of rental housing
Annual revenue: $10 billion
Employees: 19,700
Notable: Greystar manages and operates more than $165 billion of real estate assets in 200 markets worldwide.
Website:
www.greystar.com
Contact: 843-579-9400