BUILDING ONCE HOUSED MAMMOTH VAULT
Bank Transformed from Cash Repository to Veterans' Center
Wednesday, November 24, 2021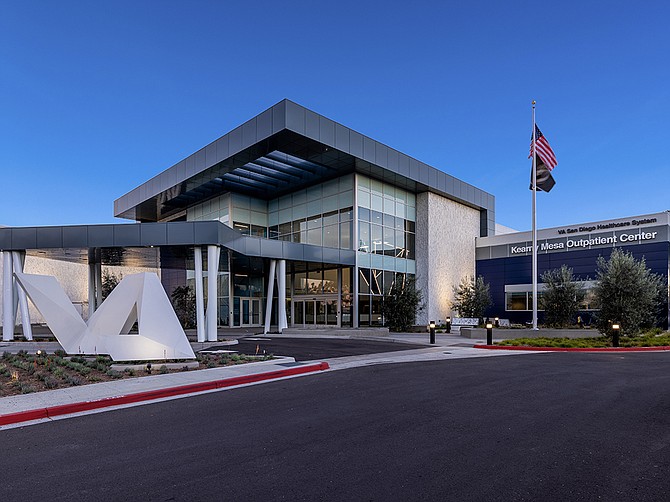 A former bank building that was used to store truckloads of paper money and coins has been transformed into a place of healing for military families.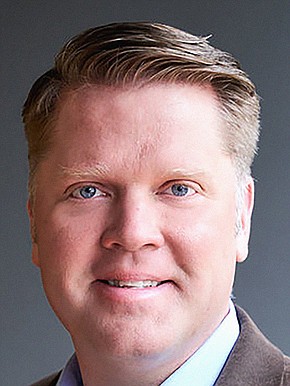 Protea Development
, based in La Jolla, has converted what was a virtually impenetrable concrete fortress of a building at 8875 Aero Drive in Kearny Mesa into a welcoming outpatient center for the Veterans Affairs healthcare system.

Ware Malcomb was the architect and Lusardi was the general contractor.
"It was an old Bank of America building. It had a 5,000 square-foot vault in there that stored hundreds of millions of dollars," said Jeffrey Essakow, CEO and president of Protea Development.
One Thin Dime
Protea Development bought the two-story bank building and an adjacent 40,000 square foot office building in 2017 for $18 million, said Clint Fowler, who oversees the company's development projects.

For now, Protea is renting out the office building.

The original bank building was about 100,000 square feet. Protea Development added 25,000 square feet and built a parking garage next to it with 393 stalls.

The former bank was vacant with little left to tell the tale of the mountains of cash it once held.

"In the whole place, we found one dime in the locker room, one dime," Fowler said.

The dime fell far short of covering the building's transformation, which Fowler said cost $110 million.

"Every single inch of the entire interior of the building had to be redone in some form, whether it was new floors or new walls," Fowler said. "The hardest part was you had to take a building that wasn't meant to be a medical building and transform it into a medical building. That means more power, different layouts. That's why structurally the building had to be modified so dramatically."
All Concrete

The interior layout was designed to implement a new model of care for the VA, Patient Aligned Care Team.

"The patient goes into one room and the doctors rotate into that one room to see them rather than the patient going into a lot of different rooms throughout the building," Fowler said.

The former vault was converted into offices, but it took some doing. The door alone weighed 4,000 pounds and the vault walls were 18 inches of reinforced concrete.

The front of the building, also concrete, was torn out to create a glassed-in lobby entrance with a vaulted ceiling.

"Everything was concrete, the floors, the walls, the ceiling structure, everything was made out of concrete for security," Fowler said. "It was about a month-and-a-half, constant jackhammering. It was a big effort."

New windows were installed along the exterior walls in spaces that were carved out of the concrete.

The building also had to be retrofitted with carbon reinforcing to make it seismically safe, Fowler said.
Helping Veterans

With a staff of about 200, the new veterans' center offers a wide range of medical services, including physical therapy, audiology, radiology, dentistry, prosthetics, mental health, eye care, women's health, pathology and general health care.
 
Essakow said the project "was near and dear" to him because of its connection to veterans.
Working through the nonprofit Challenged Athletes Foundation, Essakow said "I do a lot of work with the vets."

"It helps vets get back in the game of life through sports," said Essakow, who is a board member of the foundation.

Headquartered in Mira Mesa with offices in San Francisco, New York and Boise, the foundation sponsors a variety of events for disabled individuals and their families.
Protea Properties

Founded: 1997
CEO and President: Jeffrey Essakow
Headquarters: La Jolla
Business: Developer
Employees: 22
Website: 
www.proteaproperties.com

Contact: (858) 457-5593