San Diego-Based 180Commerce Acquired by Cart.com
Friday, November 19, 2021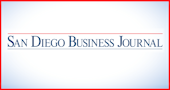 Carlsbad-based 180Commerce, which provides retail strategies, tools, and resources to help consumer brands succeed on Amazon and other ecommerce marketplaces, has been acquired by Cart.com. The Houston-based ecommerce technology company is a competitor of Shopify and Amazon.
Terms of the transaction were not disclosed. The deal was announced on Nov. 15.
The entire 180Commerce team will remain under the acquisition and will be led by 180Commerce founder Jason Stuempfig.

180Commerce was founded by the team behind Shoe Metro, another San Diego company that was acquired by DSW in 2016. 180Commerce provides dozens of brands with retail strategies, tools, and resources, with a focus on data, advanced strategies, and technologies to drive value for brands.
Its clients will continue to benefit from its guidance in those areas as well as gain access to the full range of integrated Cart.com e-commerce offerings. This includes performance marketing, logistics and fulfillment.
Travel & Hospitality reporter Mariel Concepcion can be reached at mconcepcion@sdbj.com or 858-634-4625.