ARCHITECTURE: $16M PROJECT COMING TO OCEANSIDE
New Condo Development Will Include Hotel Units
Wednesday, November 17, 2021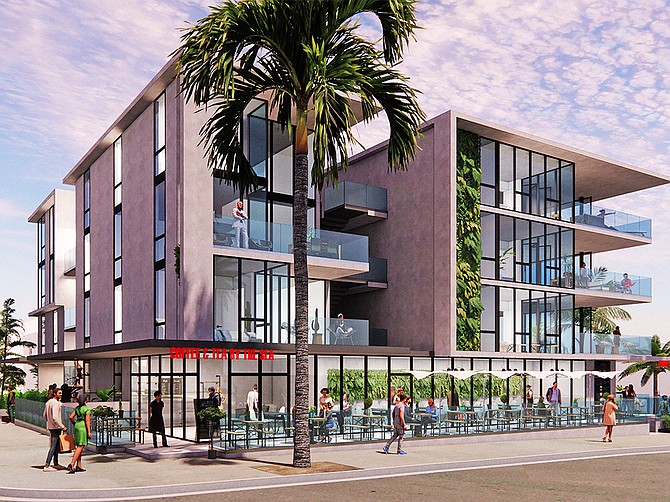 San Diego architect Doug Austin is planning to build a $16 million condominium and hotel project in Oceanside.
Austin, founder and chairman of 
AVRP Skyport
 based in East Village, said the project at 802 S. Pacific St. will have 10 for-sale condominiums and three hotel units.

Austin said he included the hotel units in the project as a source of income for the property to keep down homeowner association fees.

The project also will have a 1,000-square-foot café on the ground floor with an outdoor deck covering an additional 1,000 square feet, Austin said.

"It's just a great location and the city likes to have commercial uses included," Austin said. "It likely will be a twist to a Starbucks, a little place where you can get a coffee and a croissant."
Contemporary Design, Lots of Glass

Planned for a 10,000-square-foot vacant parcel, the project will have unobstructed ocean views.

"It's all about the views. Every single one of those units have whitewater views," Austin said.

Austin described the project as having "a very contemporary look" with floor to ceiling glass.

"It's just clean planes," he said.

All of the units will have decks, ranging roughly from 150 square feet to 200 square feet.

"The entire wall opens to the decks, so you get that indoor/outdoor feeling," Austin said. "We're thinking about using some wood in the ceilings to warm it up."

The condominium units will range from 1,280 square feet to 1,850 square feet. They will include four, two-story townhomes and six flats.

"The building will have an elevator. It's not a walk-up," Austin said.

The hotel units will be about 850 square feet with two bedrooms and full kitchens.

Under city rules, the hotel rooms could be rented for no more than one month at a time, Austin said.

Sale prices have tentatively been set at $1.3 million to $4 million.

"That location is walkable to the train depot and has easy access to the beach," Austin said.
LEED Standards

Likely buyers would be a combination of people already living in North County and people moving from Orange County and Los Angles -- and maybe a snowbird or two, Austin said.

"There will be some people that will be there year-round. It will be their primary home. There are other people, that will be their second or third home," Austin said. "I think that we'll attract people who are investors who want to rent their place when they're not there."

Having hotel units right on the property also is an added selling point.

"If you have people visit you, you can put them in their own unit," Austin said.

Hotel rates haven't been set yet, but Austin said rates will be reduced for residents who rent the units for visitors.

"We want that to be like an amenity," Austin said.

Construction should start in the first or second quarter of 2023 and is expected to take about 18 months to complete.

The building will be energy self-sufficient, creating its own power from solar panels and will use sustainable products in its construction.

"We want to be a building that is the equivalent of at least LEED Gold or better," Austin said.

Austin said he was attracted to Oceanside because the city is going through a renaissance, with a flourishing downtown and a new beach resort.

"It's gone from a place that people wanted to stay away from to a place you want to hang out," Austin said. "It's really become a first-class place to live, very popular."
AVRP Skyport
Founded: 1976
CEO: Douglas Austin
Headquarters: East Village
Business: Architecture
Employees: 44
Notable: AVRP Skyport is the architect working with Protea Development on the $1.2 billion Seaport San Diego project on the city's bay front.
Website: www.avrpstudios.com
Contact: 619-704-2700