RECEIVES CONTRACT SIMILAR TO DEAL AWARDED TO KRATOS DEFENSE
GA-ASI Has New Air Force Project
Tuesday, November 9, 2021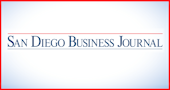 The U.S. Air Force has selected two San Diego companies to design and develop an aircraft it calls Off-Board Sensing Station, or OBSS.

Poway-based 
General Atomics Aeronautical Systems Inc.
 announced on Nov. 2 that it received a $17.8 million research and development award from the Air Force Research Laboratory. Its announcement was accompanied by a photo of its jet-powered Predator C aircraft.

Kratos Defense & Security Solutions Inc. (Nasdaq: KTOS), based in Scripps Ranch, announced in late October that is received a similar contract, worth $17.7 million, to conduct R&D related to an OBSS aircraft.
Seeking Rapid Time to Market

The Air Force lab is developing what it calls an open architecture concept Autonomous Collaborative Platform (ACP) to achieve its goals of rapid time-to-market and low acquisition cost, while extending and enhancing the sensing volume of manned aircraft.

Both contracts are for 12 months. The Air Force has options to extend either contract. Options would provide for the design, development and flight demonstration of an aircraft, and carry work out to January 2024. General Atomics' option is worth an additional $32 million while the Kratos option is worth an additional $31.4 million.

"We're excited to continue working on this project with AFRL," said Chris Seat, senior vice president of special programs for GA-ASI. "Our experience in developing and delivering the most cost-effective and forward-looking UAS solutions puts GA-ASI in a great position to deliver the right ACP to meet our customer's requirements."

"The recent selection of Kratos to develop next-generation OBSS aircraft for our partner, the U.S. Air Force, reaffirms our approach to treat affordability as a technology." said Eric DeMarco, CEO of Kratos. "Kratos Ghost Works, which played a significant role in the design of our OBSS system, has once again demonstrated that our real, proven, digital engineering process, methodology, assets and infrastructure are optimized for affordable system development."
Maritime Demonstrations Conclude

In other unmanned aircraft news, GA-ASI completed five weeks demonstrating the maritime surveillance capabilities for its MQ-9 SeaGuardian aircraft. The demonstrations wrapped up with a military exercise completed Sept. 30. GA worked with Great Britain's Royal Air Force, the launch customer for its MQ-9B.
General Atomics Aeronautical Systems Inc.
FOUNDED: 1992
CEO: Linden P. Blue
HEADQUARTERS: Poway
BUSINESS: Maker of remotely piloted aircraft and subsystems
EMPLOYEES: More than 9,000
WEBSITE: 
www.ga-asi.com

NOTABLE: The Smithsonian Institution calls the company's Predator aircraft "a drone that transformed military combat"
CONTACT: 858-312-2810