NORTHROP GRUMMAN DEALS WORTH HUNDREDS OF MILLIONS OF DOLLARS
Contracts to Keep Global Hawk Flying
Tuesday, November 9, 2021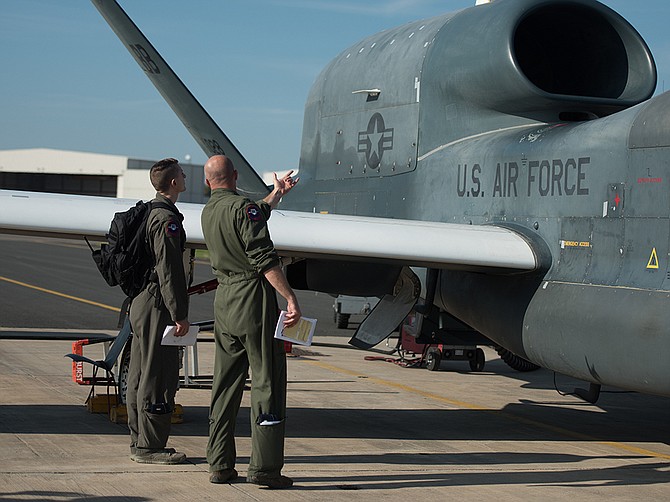 The U.S. Air Force awarded 
Northrop Grumman Corp.
 (NYSE: NOC) a $298.2 million indefinite-delivery modification to a previously awarded contract supporting the RQ-4B Global Hawk unmanned aircraft. The Global Hawk program is based in Rancho Bernardo.

The contract provides for repair services for common items for the RQ-4B and its U.S. Navy counterpart, the MQ-4C Triton. The deal will support reparable National Stock Numbers (NSNs) which encompass the air vehicle, multiple sensor packages, mission control element, and launch and recovery element. In addition, this effort includes support engineering services. Work will be performed in San Diego; El Segundo; Valencia; Cypress; San Jose; Salt Lake City; Sterling, Virginia; Las Cruces, New Mexico; Joplin, Missouri; Vandalia, Ohio; Troy, Ohio; Longueil, Quebec; Woodland Park, New Jersey; Whippany, New Jersey; Indianapolis; Woburn, Massachusetts; Twinsburg, Ohio; Medford, New York; Wichita, Kansas; and Linthicum, Maryland. Work is expected to be completed by Dec. 31, 2027. This award is the result of a sole-source acquisition. The Air Force Sustainment Center at Robins Air Force Base, Georgia, awarded the contract, announced on Oct. 28.

Separately, on Oct. 29, the Air Force awarded Northrop Grumman a modification to a previously awarded undefinitized contract action for RQ-4 Global Hawk aircraft sustainment. The deal has a ceiling of $108.8 million.

The modification provides for a second year of contractor logistics support services. Work will be performed in South Korea and Sierra Vista, Arizona, and is expected to be completed by Feb. 29, 2024. Foreign military sale funds in the amount of $22,888,481 are being obligated at the time of award, and the total cumulative face value of the contract is $267,233,297. The Air Force Life Cycle Management Center at Wright-Patterson Air Force Base in Ohio awarded the contract.
Cybersecurity Work Goes to Viasat
Viasat Inc.
 (Nasdaq: VSAT) announced on Oct. 20 that it received a U.S. Department of Defense (DoD) contract to provide vulnerability assessment testing and response support under a new pilot program focused on improving the cybersecurity and resilience of DoD weapon systems. Financial terms of the contract were not disclosed.
Viasat will be the first external cybersecurity team to perform these assessments through the pilot, which aims to drive efficiencies to automate mission and threat-based security assessments at-scale using analytics and a proven methodology for intelligence gathering, threat modeling, vulnerability analysis and exploitation.

As part of the pilot, Viasat will analyze key components within a highly complex, interconnected DoD weapon system architecture that could be vulnerable to an attack. The analysis will also include cyber and software defined radio threat assessments to address networking, Internet of Things and radio frequency interfaces to the weapon system.

"DoD's leadership focus on weapon system cyber resilience is essential. Recent cyberattacks against the U.S. government provide a clear reminder that we must minimize vulnerabilities through active insights and harden core networks," said Craig Miller, president of Viasat Government Systems. "As the battlespace is modernizing quickly, and the use of commercial technologies and systems are being rapidly deployed in DoD's infrastructure, performing robust vulnerability assessment tests is critical to identifying and addressing potential gaps in technology, as well as determining if platforms are potentially vulnerable to attack."
Four Receive Painting Contracts

Four companies received contracts from the U.S. Navy to paint Navy ships and other vessels within a 50-mile radius of San Diego. Deals were awarded to AMP United LLC of Dover, New Hampshire; Prime Time Coatings Inc. of National City; South Bay Sand Blasting and Tank Cleaning Inc. of National City; and Surface Technologies Corp. of Atlantic Beach, Florida. The maximum ceiling value of the indefinite-delivery/indefinite-quantity contracts is $10 million. These four companies will have an opportunity to compete for individual delivery orders.

Contractors will provide labor, services, equipment and materials for the removal of existing paint coating system, and the surface preparation, prime coat and top coat application of new paint coating system. These contracts were competitively procured via the beta.sam.gov website. The Navy received four offers. The Southwest Regional Maintenance Center of San Diego awarded the contracts, announced on Oct. 29.