Viasat to Acquire UK Rival Inmarsat for $7.3 Billion
Monday, November 8, 2021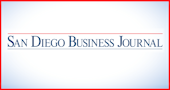 Carlsbad-based Viasat (Nasdaq: VSAT) on Monday agreed to buy British competitor Inmarsat for $7.3 billion.
Rick Baldridge, Viasat president and CEO, said the move was strategic and "gives Viasat the scale to increase the pace of innovation that drives new and better services for our customers, broadens the opportunities for our employees and provides a foundation for significant positive free cash flow, with potential upside from a revitalization of L-band and IoT service growth." 
The deal --
$850 million in cash, $3.1 billion in Viasat stock and the assumption of $3.4 billion of net debt
-- also gives Viasat expanded "scale and presence" in the $1.6 trillion broadband and IoT sectors, Baldridge added. 
After announcing the Inmarsat deal, Viasat also released Q2 earnings Monday, posting a profit of $3.3 million -- or 4 cents per share. Analysts had been expecting 11 cents.
News of the Inmarsat deal together with the latest earnings release combined to send Viasat shares lower by almost 17% Monday on Wall Street.
Viasat's latest acquisition, which must be approved by U.S. and European regulators, would expand the company's broadband network globally in both multiple orbits and spectrum bands.
Inmarsat currently has 14 satellites in orbit, providing mobile satellite services that enable email, internet and video conferencing, as well as in-flight Wi-Fi. 
The takeover of London-based Inmarsat comes just two years after it was taken private in a $3.4 billion deal.