CONGRESS HAS YET TO DECIDE ON 2022 DEFENSE DEPARTMENT BUDGET
Pentagon Spending In Holding Pattern
Tuesday, November 2, 2021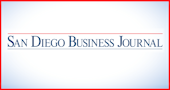 With a new federal fiscal year kicked off Oct. 1, but no Pentagon budget for 2022, the U.S. Department of Defense is operating under stopgap legislation that ends Dec. 3.

The situation puts defense contractors in a holding pattern, as they may not start new programs until Congress passes a budget. Contractors can, however, operate under previously existing contracts.

Meanwhile, Congress is busy with other matters, including debt ceiling debates and social services and infrastructure legislation supported by the White House. Congress will have to pass a defense budget by Dec. 3 or pass another stopgap spending bill. Lawmakers might choose the latter, said Mark Balmert, president and CEO of the San Diego Military Advisory Council (SDMAC).

"Nothing's moving fast," said Derry Pence, president of the Port of San Diego Ship Repair Association.
$768 Billion Budget Eyed

The National Defense Authorization Act (NDAA) passed by the U.S. House of Representatives on Sept. 23 totals $768 billion.

The NDAA funds the procurement of one oiler ship from General Dynamics NASSCO (NYSE: GD). The act also calls for a 2.7% pay increase for people in uniform. Payrolls for uniformed and civilian military employees in San Diego County amounted to $13.1 billion in 2021, up 6.1% from the previous year, according to a recently issued economic impact study from SDMAC.

A House-Senate conference committee must still reconcile the House-passed NDAA with companion legislation from the Senate. It must also balance those with appropriation legislation from both houses.

"The Fiscal Year 2022 House version of the NDAA that passed in September increases service member pay by 2.7%, invests over $28 billion in Navy shipbuilding, and directs the Navy to report to Congress on the harmful effects of transboundary sewage flows in the Tijuana River Valley to San Diego and Coronado. I'm committed to ensuring this bill's final passage," said Rep. Scott Peters, D-San Diego, in a statement issued by his office.

San Diego's ship repair community "will be in good shape" if the bills coming out of the conference committee have the same numbers as the recently passed legislation, said the ship repair association's Pence. He added that the pace of local ship repair work is slowing for several reasons, including ship decommissionings, but is headed for a "steep rise" in 2023.
Dollar Amounts in Flux

The original NDAA legislation put forward by Adam Smith, D-Washington, chairman of the House Armed Services Committee, called for $744.2 billion in spending, including $716 billion in Department of Defense discretionary base and $27.8 billion in U.S. Department of Energy discretionary base.

The NDAA provides additional funding for the U.S. Army's MQ-1 Gray Eagle aircraft and the U.S. Air Force's MQ-9 Reaper aircraft. General Atomics Aeronautical Systems Inc. builds both in Poway.

It supports procurement of 75 F-35 aircraft for the Air Force, Navy and Marine Corps. Prime contractor Lockheed Martin Corp. (NYSE: LMT) has subcontractors in San Diego County that provide electronics for the F-35.

The NDAA contains $33.7 million for Special Operations Forces support facilities at Naval Amphibious Base Coronado as well as $50 million for the Pier 6 replacement at Naval Base San Diego.

The just-issued SDMAC report states that total Pentagon spending in San Diego County, including salaries, pensions and contracts, increased 5.3% in fiscal 2021 to $35.3 billion.