Mission Fed Opens 33rd Branch
Tuesday, November 2, 2021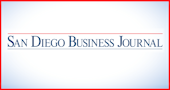 Mission Fed Credit Union announced in October that it has opened its 33rd branch site, in Oceanside.
The branch is at 2267 S. El Camino Real.
"At a time in our industry where we're seeing banks and credit unions close branch doors, we're fortunate to open a new branch for our members – and in a location where we're needed most," said Debra Schwartz, president and CEO of Mission Fed, in a statement issued by the organization.
Oceanside resident Danielle Gonzalez is assistant vice president and branch manager.
To mark the occasion, Mission Fed leadership presented YMCA Youth & Family Services (YFS) with a $1,000 donation. YMCA YFS is a branch of the YMCA of San Diego County devoted to social services. In Oceanside, YMCA YFS helps homeless youth and young people with services including transitional housing, skill development and behavioral and mental health services.
Mission Fed has $5 billion in assets and more than 270,000 members.