'Conscious Capitalism' Champion Forsythe to Launch New Book at Virtual Event Wednesday
Tuesday, November 2, 2021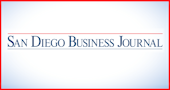 Entrepreneur, leadership mentor and 'conscious capitalism' movement champion DeLinda Forsythe is launching a new book at a virtual event Wednesday (Nov. 3) in San Diego. 
The San Diego Chapter of Conscious Capitalism Inc. (CCI) will host the book launch, which includes a virtual panel discussion. CCI is a national nonprofit created to build a movement of business leaders dedicated to improving the practice and perception of capitalism. 
Forsythe, CEO and founder of Innovative Commercial Environments (ICE), a San Diego-based office and hospitality furniture dealership, will be one of the featured speakers at the event, scheduled to take place virtually from 5:15 to 7:15 p.m.  
Forsythe, a passionate advocate of conscious capitalism, is the author of "Inspiring Generational Leadership: Your Guide to Design a Conscious Culture," published by Morgan James Publishing. 
The book is scheduled to be released in February 2022.  
Established in 2006, ICE is the only commercial furniture dealership in the U.S. named to the Inc. 5000 Fastest-Growing Private Companies list for seven years, a designation achieved by only 1.5 percent of companies nationwide.  
Forsythe has designed an industry-disrupting workplace that fosters a culture where employees prosper by successfully engaging in intergenerational mentorship.  
"My work with CCI and the San Diego chapter in particular has fueled and inspired my growth as a business leader," Forsythe said. "I can't think of a more appropriate time to launch this book, to begin sharing the insights I've gained and the strategies I've developed with entrepreneurs across the country looking to accelerate their success in a humanistic, community-minded, sustainable way."  
Inspiring Generational Leadership: Your Guide to Design a Conscious Culture explores the many benefits of creating a conscious business enterprise. Working in partnership with Millennial co-workers, Forsythe designed policies based on employee feedback and engagement, creating an extraordinary work environment that has benefited customers, employees and the community.  
Forsythe has contributed to numerous area nonprofit organizations, serving on committees and boards that support the San Diego philanthropic and business community. She currently serves as chair of the San Diego Economic Development Foundation and is a founding member of the Senior Leadership Network for CCI.  
Also speaking at Wednesday's event: Greg Horowitt, an entrepreneur, venture capitalist, author and innovation ecosystem architect and Kent Gregoire, a serial entrepreneur, angel investor and one of only seven global Certified Conscious Capitalism Consultants.  
The panel discussion begins at 6 p.m. Laura Hall, conscious capitalism expert and author of The ABCs of Conscious Capitalism for KIDs, will serve as moderator. Saundra Pelletier, CEO and president of Evofem Biosciences and conscious capitalism leader, will participate via pre-recorded interview.