ARTS: ANJANETTE MARAYA-RAMEY COMBINES ART AND BUSINESS EXPERIENCE TO INSPIRE OTHERS
Local Performing Artist Builds a Beacon of Hope
Thursday, May 27, 2021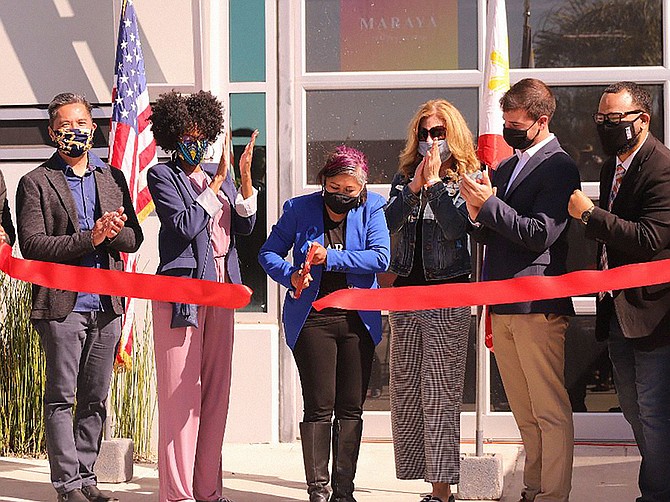 Anjanette Maraya-Ramey said she "escaped death twice" and the pandemic was yet another test of survival for her new business. The founder and artistic director of
Maraya Performing Arts
had survived a brain hemorrhage and in 2018 while undergoing chemotherapy treatments for leukemia, she envisioned a future business that became a beacon of hope.
"I would sit in my chemo chair and I was writing my business plan and doing vision boards and doing financial projections and looking at spaces, because you'll just sit there for hours and I thought, instead of being depressed let me dream of what my life will look like and feel like once I get through this," Maraya-Ramey said.
In January 2020, her business plan for a diverse, welcoming performing arts studio came to life. On March 1, 2020 she signed a five-year lease for the studio space in Chula Vista — then everything shut down.
She invested most of her life savings into this dream and when there was a chance her business might not survive the pandemic, Maraya-Ramey figured she's beaten near-death experiences before.
"Here's another near-death experience of my business, but I've beat it before," Maraya-Ramey said. "So, I have this like warrior resilience and survivor mentality but I thought you know, this too shall pass. I've fought and survived many things before and I can survive this."
Hometown Business

Maraya-Ramey chose to open her business in Chula Vista, the community she grew up in, because there were not any creative spaces that centered diversity, equity and inclusion across the county like she envisioned for her business.
"I could have picked anywhere in San Diego, you know, and I picked my hometown, because I have seen and experienced years and years of...structural disadvantages to our communities, and I didn't want any future generations to have to go through not finding a space where they would feel like there is something for me," Maraya-Ramey said.
Her parents immigrated to San Diego from the Philippines and her father served in the Navy. As a kid, Maraya-Ramey didn't dream of becoming a professional dancer. In fact, she didn't realize that was a viable career until she attended Southwestern College and "accidentally" found dance.
Maraya-Ramey walked by a jazz class one day and even though she hadn't danced since she was 10 years old, she tried a few classes which led her to transfer to Grossmont College and switch her major to dance.
She left San Diego briefly to attend the California Institute of the Arts in Los Angeles where she earned her BFA in Dance Performance and Choreography.
Connecting Art and Business

After college, she danced in a company and returned to San Diego to be close to family and served as company manager at La Jolla Playhouse.
Along the way Maraya-Ramey knew she wanted to expand her knowledge beyond dance and earned her Master's degree in Nonprofit Leadership and Management from the University of San Diego. Now, she uses her expertise to train other artists in entrepreneurship.
"Art and dance is a business...so it's important for [artists] to understand how to market themselves, how to monetize what [they] invested in," Maraya-Ramey said. "I have the skills and the experience to train the next generation of emerging arts leaders, arts administrators and artists to contribute to the creative economy which is such a big part of our economy."
While starting her own business hasn't been easy from securing funding to pandemic restrictions, Maraya-Ramey has been determined to create a place that doesn't just survive, but thrives and serves her community by teaching and mentoring artists.
"I do everything like, I've never had cancer before," Maraya-Ramey said. "And that's the way I want to live the rest of my life, is knowing that anything is possible. If you put your mind, your heart and your soul into it — it will survive. I've experienced that many times before and I'm just now accustomed to just fighting through painful experiences and coming out on the other side of things."