AGRICULTURE: CARLSBAD'S JIMMY UKEGAWA REINVENTS HIS FARM BUSINESS
Growing Strawberries and a Family Business with Each Generation
Thursday, May 27, 2021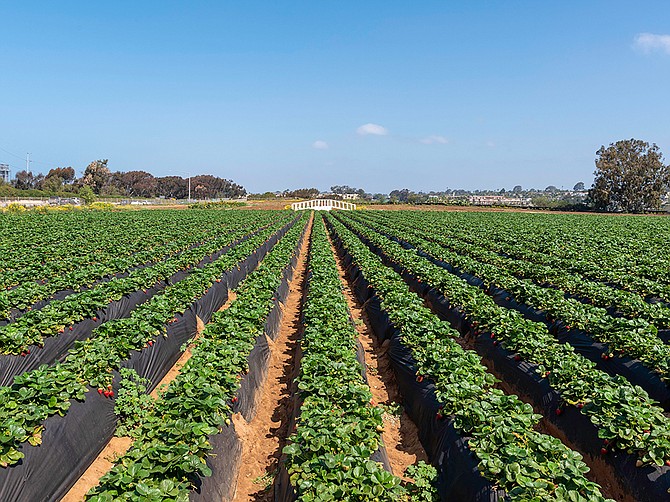 Jimmy Ukegawa
jokes that he's a farmer turned gardener — what was once a couple thousand acres of farmland off Canon Road has shrunk to a 25-acre family business. The familiar stretch of green along the I-5 freeway may be smaller in size but to the residents of Carlsbad has only grown in impact.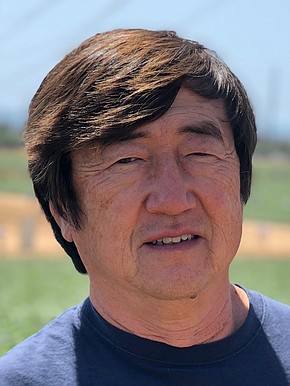 The owner of the
Carlsbad Strawberry Company
, known for its U-Pick attraction that allows people to harvest their own fresh fruit, said business has quadrupled during the pandemic. The stand, located off Cannon Road, had to expand from one window to five to keep up with demand.
With this in mind, Ukegawa has leveraged this boon to help other local businesses sell products at their stand. Additionally, Ukegawa started selling produce boxes through his other business,
Aviara Parkway Farms Inc.
and has donated more than half a million tons of fresh fruit and vegetables to community organizations.
Giving back to the community is at the center of this family-run business and this tradition has guided the Ukegawa family into the next generation of the business through agritourism.
Family Grown Business

In 1941, the Ukegawa's lost all of their farmland in Orange Country after being placed in a Japanese internment camp. In spite of this, Ukegawa's father,
Hiroshi Ukegawa
, still enlisted with the U.S. military a year later to serve in World War II.
Soon after returning from the war, Hiroshi Ukegawa and his family moved to North County which is where they started the Carlsbad Strawberry Company in 1952, where they grew tomatoes, strawberries and mixed vegetables on about 2,000 acres of land.
Years later, after Jimmy Ukegawa earned his degree in plant and soil biology from UC Berkley, he put his plans for graduate school on hold and returned to help run the family farm in the late 1980s. At a time when the farm was struggling, Jimmy Ukegawa had the idea of pivoting to agritourism and starting the U-Pick attraction.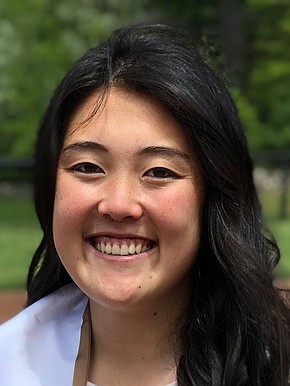 Now his daughter,
Robyn Ukegawa
, who is a driving force behind the company's branding, social media and t-shirt designs, has chosen to join the family business and put her business degree to work. She also helps manage the warehouse operations at Aviara Parkway Farms and over the years one of the biggest lessons she's learned from her family's business is perseverance.

"The family motto he's instilled in all of us — never give up no matter how hard it gets, because I know when I was a kid there were so many times where he had to take all of his personal money and invested into the company... And so he's a big reason why our family business is still in business because he never gave up and he kept pushing," Robyn Ukegawa said.

Giving Back
Another family tradition is giving back to the community, something Jimmy Ukegawa said his parents have done from the beginning. For instance, every year, the Carlsbad Strawberry Company delivers a car full of produce to the Carlsbad Fire Department.

The tradition started when Ukegawa's sister was sick as a child and the fire department heroically revived her at their house. His mother, Miwako Ukegawa, made a point to deliver strawberries to the fire station as a thank you and since then, the family has continued the tradition every year.

The desire to give back is also what inspired one of the newest features for Aviara Parkway Farms Inc. At the start of the pandemic, Ukegawa delivered boxes of fresh fruit and vegetables to elderly neighbors who were socially isolating. This resulted in people asking to buy these boxes and now they are selling hundreds of boxes per week as well as donating many to food insecure San Diegans, Ukegawa said.

While the past year has kept people coming back to the strawberry fields, for some socially-distanced fun, Ukegawa also used the opportunity to become a hub for local businesses who were struggling. The strawberry stand and Aviara warehouse sell Bitch'n Sauce from Vista, El Nopalito chips from Encinitas, strawberry jelly made by a veteran in Escondido and Hollandia Dairy products from San Marcos.

"As much as we could do to help this community stay in business is what we did and we're proud of that and it will come back" Ukegawa said.

Traditions
While the Ukegawa family keeps up the roots of the farm, they have also breathed new life into the attraction by adding a sunflower patch, bounce-house play area, a pumpkin patch in the fall and even an apple cannon aimed at wooden targets with COVID and a big red slash written on it.

Robyn Ukegawa said the business has changed from generation to generation, but her dad still believes in doing some things the old-fashioned way. In fact, he finally caved and got an automated answering machine for the business because the phones were ringing off the hook the past few months.

This slow and steady, traditional approach even transfers into what makes their strawberries stand out among the kind you purchase from the grocery store.

The primary breed grown at the strawberry fields are called Albion, which he said take a bit longer to grow and don't produce as much as the kind grown commercially. That being said, their strawberries are noticeably sweeter in taste, a deeper ruby red and sometimes double the size of store-bought varieties.

"We're always looking at what's next...I'm constantly out there watching, seeing what [visitors] are doing, seeing what they like, what they don't like, and planning the next thing we're gonna do," Jimmy Ukegawa said. "Just like a grower you have to think what crops are you going to produce next. In farming, as in a lot of things, you're always trying to learn something new."