Home tours resume
Wednesday, May 26, 2021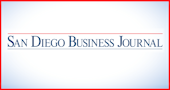 The Greater San Diego Association of Realtors notified its members that they may resume in-person tours of homes that are up for sale.
"The internet may be a fast way to find a home, but nothing beats touring the home in person with the guidance and expertise from a realtor," said Carla Farley, association president.
  "Our members at SDAR look forward to welcoming prospective buyers back to open houses, one of our most tried-and-true traditions and tools for home selling," Farley said.
In-person showings of properties, such as open houses, are now permitted in California, as long as they follow indoor gathering capacity limits.
In San Diego County, the limit is 25 people or fewer, Farley said.
When the COVID-19 pandemic hit over a year ago, open houses on a walk-in basis were prohibited.
 In California, all home showings required an appointment and, in some cases, a special form signed by the seller, buyer, and agents prior to entering a property.
The forms are still recommended but this is a step towards business "as usual" in real estate, Farley said.