INNOVATION: CO. USES VIRTUAL APP TO HELP PEOPLE MANAGE HAIR LOSS
Student Startup Wins $25K at USD's Pitch Competition
Thursday, May 20, 2021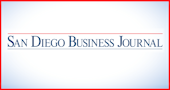 The 
University of San Diego
 (USD) held its ninth annual V2 Pitch Competition last week, allowing teams of students to compete for seed funding for their social enterprise projects.
In total, 10 finalists pitched their business ideas, including three finalists who competed for the grand prize. The competition was held virtually late last week due to the COVID-19 pandemic.

Grand Prize Winner
A USD student startup named Proxy Hairwear was the grand prize winner at the university's competition and received a $25,000 prize.
The app offers women a simpler way to shop, see what looks good on them, and share the photos with friends and family for feedback, said Jackson. She intends to use its prize money to develop its app, grow its social media presence and build out its ambassador program, she said.
The competition also recognized runner-up Discrete Solar, a startup developing plug-and-play solar products to make energy more accessible. It was created by USD students Marley Collins and Sabrina Smith. Bipty, a startup aiming to reduce carbon footprints with reusable fashion, was also a runner-up for the final prize. Bipty was created by USD student Natalia Ohanesian.
Now in its ninth year, the V2 Pitch Competition was created to provide student entrepreneurs the opportunity to put their business idea into practice and take their ideas to the next level, she said.
The Judges

The companies were judged by a panel consisting of Ron Fowler, previous co-owner of the San Diego Padres and CEO of Liquid Investments; Mike Fasulo, executive advisor and retired president and COO of Sony Electronics; Sebastian Lucier, member at Mintz; Mike Krenn, president and CEO of Connect w/ San Diego Venture Group; and Fiona Brophy, partner at Perkins Coie and co-chair of emerging companies and venture capital practice.
"The level of companies pitching is also improving year-over-year. We're seeing this across the board from universities including UC San Diego, San Diego State University, Point Loma Nazarene University, and Cal State San Marcos. Its bodes really well for the region," said Krenn.
Other entrepreneurial competitions at USD, include the Fowler Business Concept Challenge and the Fowler Global Social Innovation Challenge.
Fowler is a long-time supporter of charitable and educational causes at USD. In 2019, the Fowler family pledged $2.5 million to USD to expand the Global Social Innovation Challenge as well as a $100,000 gift for the Fowler Business Concept Challenge.
Helping Students Succeed

To date, the competition has awarded more than $100,000 in scholarships, not including the thousands of dollars' worth of mentorship and resources that USD provides the students competing throughout the months leading up to the final pitch competition, said Kannan.
Over 300 students participated in the V2 Learning Series, a series of workshops designed to prepare students for the world of entrepreneurship while honing their own business ideas this year, she said.