RESTAURANTS: TAKASHI ENDO GOES TO GREAT LENGTHS TO MAKE FRESH RAMEN AT MENYA ULTRA
Wake Up, Make Ramen, Repeat
Wednesday, May 19, 2021
Every morning, Takashi Endo starts his day no later than 4 a.m. to make homemade ramen noodles. Sometimes he gets to the kitchen at 2 a.m., if it is a busy day and sometimes one of his four sons wakes up early to help him make the noodles. However, the owner of Japanese ramen house, 
Menya Ultra
, always insists on making his noodles from scratch daily.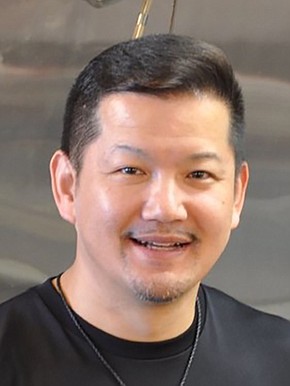 "His kitchen is next door to a fitness center and it opens about the same time at 4 a.m., so they open together," said Endo's spokeswoman, Yoyo Sasaki, who translated from Japanese for him and runs the restaurant's marketing.
Endo's attention to detail translates to the bowl and has garnered national recognition — he has won the Tokyo Ramen Festival, the largest ramen event in the world, four years in a row.
He uses a special blend of three flours imported from the Hokkaido region of Japan, a northern island known for its wheat and spent time studying with the wheat farmers on how to make the best noodles. This blend gives Menya Ultra's hand pulled noodles — which contain no preservatives, no GMOs or artificial colors — a distinctive sweet wheat scent, springy and smooth texture that will surprise you, Sasaki said.

Mastering Ramen Noodles
Growing up in Tohoku, Japan, Endo enjoyed cooking and the first dish he learned how to make was tempura around the age of 10. Later, like most 20-year-olds, he mastered the art of making pre-made ramen. Then, it was around this time that his brother returned to their hometown after working at a ramen store in Japan and he taught Endo how to make homemade ramen noodles.
In 1994, he opened his first ramen restaurant called Nishiki in Odate, Akita, Japan and today, he owns eight restaurants in Japan, four in Tawain and three in the United States — all in San Diego County.
He came to San Diego to visit a friend and ended up staying because he liked it here and he didn't find authentic ramen like the kind he made in Japan, said Sasaki.
In 2017, he opened his first Menya Ultra in Clairemont and since then, his stores have had a line out the door. The Japanese word "menya" translates to "noodles" and although there is no word for "ultra" in Japanese, Endo added it to the name because it means better than super, and he wants to be the "ultra noodle house" Sasaki said.
One of the most popular dishes is the classic tonkotsu ramen which features a house-made recipe of pork broth, and topped with a slice of pork chashu, bean sprouts, green onion, wood ear mushroom, roasted sesame seeds and a soft-boiled egg.

Adjusting for the Future
In March, Menya Ultra opened its third location in Hillcrest, and although the past year has presented Endo with challenges, he's made adjustments to maintain his standard of quality.
Prior to the pandemic, Sasaki said that Endo traveled about 80 times annually for the past five years so he could check in on all of his restaurants and ensure the quality of the ramen was being kept up. He would spend three weeks in San Diego, fly to Japan for two weeks, then to Tawain for two weeks and repeat the cycle again.
Menya Ultra now offers takeout, delivery and at-home ramen kits, all of which did not exist before the pandemic. 
"Mr. Endo tested making take-out ramen a couple of times and changed containers a couple times to make the 'takeout ramen' that can be eaten in two hours we have now," Sasaki said in an email. 
That being said, Endo still believes the best ramen experience is to start with fresh noodles that are served no more than three minutes after it's cooked. 
"We are making hard effort to serve the hot ramen from the time the customer steps into the store," Sasaki said. "We must serve your ramen in three minutes after noodles cooked...Therefore, he really wishes to end pandemic soon so that more people can enjoy real hot ramen like before pandemic."