CIVIC: API GROUP FORMED TO ADVISE CITY
Asian Businesses Generate $4B
Sunday, May 16, 2021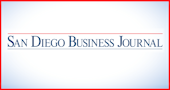 Asian-owned businesses in San Diego County generate more than $4 billion in gross sales annually, according to a report by the Asian Americans Advancing Justice and the Union of Pan Asian Communities.

In addition, 50,000 people are employed by Asian-owned businesses in San Diego County and those businesses have an annual payroll of more than $1 billion.

With these facts in mind, San Diego Mayor Todd Gloria appointed 15 Asian community leaders to head up the city's Asian-Pacific Islander (API) Advisory Group to play an important role in promoting initiatives that support the API community, including its business owners.
Jason Paguio
, president and CEO of the
Asian Business Association
, to connect with API businesses that they would otherwise not have known about. On May 4, outside Queen Bee Dance Studio in the Convoy district, the mayor discussed his "Back to Work SD" budget proposal to help small businesses through the pandemic.

The proposed budget includes more than $14 million in investments to aid San Diego's workforce, with a designation of $10 million in nonprofit and small business grants and loans for hard-hit industries and businesses owned by people of color.

"San Diego is home to a rich and diverse Asian and Pacific Islander community," Gloria said. 

The 15 community leaders appointed to Mayor Gloria's API Advisory Group include: Dr. Allen Chan, Ron Cho, JoAnn Fields, Panna Hazarika, Judy Ki, Lee Ann Kim, Elvin Lai, Mitz Lee, Kirin Amiling Macapugay, Connie Matsui, Su Nguyen, Tony Olaes, Jason Paguio, Dr. William Tseng and Natasha Wong.

Impacting Small Businesses
A big part of this advisory group's role will be to provide feedback on policy proposals related to the API community and advocate for the needs of people such as small business owners.

"At the end of the day, a lot of our communities don't have a seat at the table and a lot of times policy is formed without our input," Paguio said. "So, I think... [the Advisory Group] sort of creates this holistic approach to making sure we're not missed."

Another major way this group can help is by facilitating new strategies and collaborations that address the disproportionate impact of the pandemic on small businesses and communities of color, said Connie Matsui, board chair of Halozyme Therapeutics and member of the API Advisory Group.

"This group of leaders illuminates the abundant diversity within the API community and can serve to increase access and alignment on issues of greatest importance and potential impact," Matsui said. "Although San Diego's API community is comprised of many different languages and origins, this Advisory Group can serve to amplify our collective voice in order to expand opportunities and overcome challenges."

Creating an Inclusive Community
The individuals chosen for this group represent a wide range of ethnic backgrounds and a variety of professional industries, such as education, medicine and performing arts.
Michaela Valk
, director of Community Engagement for Mayor Gloria.

Valk said it was important that these representatives reflected the cultural diversity of the Asian diaspora as well as the geographic range of communities across San Diego County.

"There are various API groups and you have to make sure you capture a little bit of everybody, because there's not just one go-to group. That way when we have an initiative that needs to go back to the community, we're covering all of San Diego," said Valk, who is also leading the API constituency.

The group will meet quarterly and this is one of four advisory groups for the mayor's office. In February, the mayor announced the Black Advisory Group and there will also be a Latinx and LGBTQ+ advisory group announced in coming months, Valk said.